News story
Action to manage unprecedented passport demand
Contingency plans in place to deal with 12-year high.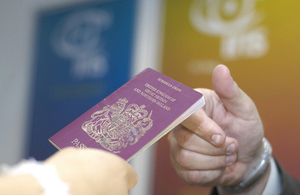 We have been experiencing exceptional early summer demand for passports. Significant additional staff have been brought in to respond to the extra demand; we are operating seven days a week and our couriers are delivering passports within 24 hours of being produced.
We have issued over three million passports for UK customers so far in 2014. From the beginning of January to the end of May more than 97 per cent of straightforward passport renewal and child applications have been processed within the usual three week target turnaround time and over 99 per cent of straightforward applications have been processed within four weeks.
We would remind people of our existing advice to customers: allow plenty of time when applying for a new or renewed passport as a passport will not be issued until the necessary security checks have been done, and do not book travel until you have received your passport.
Published 11 June 2014