Action in Libya has prevented 'humanitarian catastrophe'
As Britain continues military operations over Libya, Foreign Secretary William Hague today said that coalition action enforcing UN Resolution 1973 has 'prevented a huge loss of life and a humanitarian catastrophe'.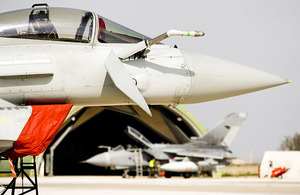 Updating Parliament on the situation in Libya, the Foreign Secretary said that 34 nations are now providing a range of assistance and that, since Thursday, a total of 701 sorties and 276 strike sorties have been conducted.
Separately, the Ministry of Defence announced that yesterday, 5 April 2011, RAF Tornado GR4s again deployed from Gioia del Colle in Italy to conduct armed air reconnaissance and overwatch patrols over Libya.
In the course of this action, a number of Paveway IV and Brimstone missiles were launched at military targets in the areas of Misurata and Sirte. A total of 12 targets were hit - six armoured fighting vehicles and six battle tanks.
Two Typhoon aircraft also flew from Gioia del Colle to police the no-fly zone, and two RAF VC10 tanker aircraft supported these operations, providing air-to-air refuelling.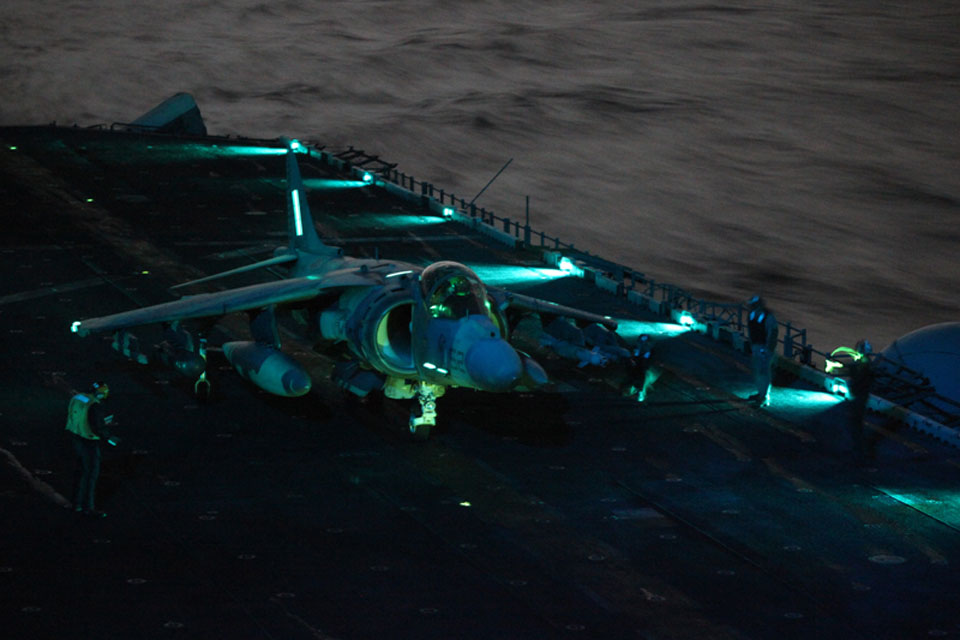 Meanwhile, in agreement with NATO, the UK is to move four RAF Typhoons from an air defence role, policing the no-fly zone, to a ground attack role - further bolstering the coalition's ability to strike targets on the ground. This follows yesterday's deployment of an additional four RAF Tornados to Gioia del Colle in support of the ongoing operation. The UK currently has 16 ground attack aircraft under NATO command. This meets present operational requirements.
The total number of UK fast jets deployed in southern Italy, including those under UK command on standby to support operations, currently stands at 20.
The Royal Navy continues to play a vital role in the NATO maritime element of Operation UNIFIED PROTECTOR. HMS Brocklesby and HMS Cumberland are both enforcing the arms embargo on Libya.
Mr Hague said that the coalition has 'all but eliminated' the Gaddafi regime's air defence capability and stopped it from bombarding Libyan cities from the air.
The Foreign Secretary also said that the coalition is destroying key regime military assets, including main battle tanks and mobile artillery, and that the arms embargo is being enforced.
However, Mr Hague warned that the regime is still able to inflict considerable damage on Libya's civilian population using ground forces, and indeed is deliberately inflicting such harm, particularly in the towns of Brega, Misurata and Zintan, where the heaviest fighting is taking place.
So long as the regime continues to attack areas of civilian population, the coalition will continue military action to implement the UN Security Council Resolution," Mr Hague said.
Mr Hague said that the UK is also one of over thirty nations contributing to the humanitarian effort in Libya. Food distribution is taking place at six locations in opposition-held areas in the east of the country.
Mr Hague said:
The World Food Programme has over ten thousand tonnes of food positioned inside Libya and neighbouring countries, and hopes to reach 85,000 people. DFID [Department for International Development] is flying tents for over 10,000 displaced people from its stocks in Dubai to be distributed by the Red Crescent.
Several consignments of medical supplies have been successfully delivered to Misurata, and yesterday a Turkish hospital ship was able to evacuate 230 wounded people.
The Foreign Secretary said that a further British diplomatic mission has travelled to Benghazi, led by Christopher Prentice, and, while Britain is not engaged in arming the opposition forces, it is prepared to supply non-lethal equipment to help protect civilian lives and facilitate the delivery of humanitarian aid.
Published 6 April 2011