News story
Acting on historical significance
Heritage Lottery Fund to support Scotland's oldest theatre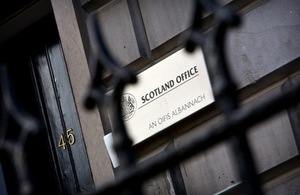 The Secretary of State for Scotland Alistair Carmichael has welcomed today's commitment from the Heritage Lottery Fund (HLF) to three projects of historical significance in Dumfries and Galloway.
HLF will provide a grant over £320,000 to restore the Theatre Royal in Dumfries – Scotland's oldest theatre. They have also given their initial support for over £900,000 to turn Kirkcudbright's town hall into a gallery of national significance helping to reflect its status as "the painter's town", Kirkcudbright's Parish Church has also been given initial support for its bid for £96,500 to undertake urgent repairs.
Mr Carmichael said:
"Dumfries and Galloway has a rich and storied history and I am delighted the Heritage Lottery Fund are helping to revitalise some of its most iconic landmarks.
"In over 20 years the Heritage Lottery Fund has provided nearly £600 million to over 3,300 Scottish projects. Working closely with local authorities, communities and worthwhile projects across the country, today's announcement further highlights the excellent work of the National Lottery in Scotland.
"The Theatre Royal has been a focal point of Dumfries for over 220 years and this money will provide a sustainable future for Scotland's oldest working theatre. It will also help create a setting for people to learn more about its storied history and provide inspiration for future generations to come.
"Kirkcudbright has long been regarded as a town for painters and has been home to some of this country's most highly regarded artists such as the Glasgow Boys. This funding to provide a nationally significant gallery and also restore its striking parish church is excellent news which help to highlight the town's historical significance to the rest of the UK and beyond."
Established in 1993 through the National Lottery Act, HLF helps sustains and transforms a wide range of heritage through investment in projects with a lasting impact on people and places. As the largest dedicated funder of the UK's heritage, HLF has supported a wider range of projects across Scotland, in recent years this has included £3m to protect Coigach and Assynt, a dramatic, rugged landscape in the far north-west of Scotland and almost £5m towards the restoration of Abbotsford in Melrose the former home of author Sir Walter Scott which opened its doors to the public last year.
Published 25 March 2014