News story
Scotland's dramatic wilderness to benefit from UK Heritage Lottery Fund
Coigach and Assynt to receive £3 million of UK Government funding.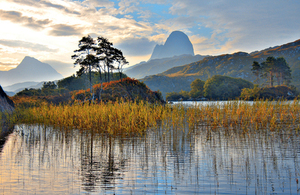 Coigach and Assynt, a dramatic, rugged landscape in the far north-west of Scotland is one of nine distinctive landscapes across the UK to benefit from £21m of Heritage Lottery Funding (HLF).
Coigach and Assynt is home to a small, close-knit community which gives it a strong sense of identity. The project, part of a wider 40-year vision, has been developed by a grassroots partnership led by the Scottish Wildlife Trust.
Scottish Secretary Alistair Carmichael said:
This is very pleasing news. I am glad that this money will be used to conserve and protect one of Scotland's most dramatic and rugged landscapes whilst ensuring the local community are closely involved in its future.

From restoring townscapes in Kirkwall and Stornoway, establishing a new museum in Dunfermline through to today's announcement, HLF continues to show that it plays a vital role in ensuring that vital pieces of Scotland's history both rural and urban can be celebrated by generations to come.
The £3 million HLF grant will play an vital role in restoring parts of the landscape, including pathways, blanket bog and heath moor. The grant will also be used to support the local community and visitors through a comprehensive volunteering programme and a cultural learning programme which will increase understanding of this vast area's complex heritage.
The funding comes as part HLF's Landscape Partnership programme which has now been running for a decade. It is the most significant grant scheme available for landscape-scale projects.
To date, over £160 million has been invested in 91 different areas across the UK helping forge new partnerships between public and community bodies and ensuring people are better equipped to understand and tackle the needs of their local landscapes.
HLF has provided almost £600 million to over 3,300 projects in Scotland since its creation 20 years ago. Most recently this has included £2.8 million towards a new museum and art gallery in Dunfermline and almost £5m towards the restoration of Abbotsford in Melrose the former home of author Sir Walter Scott which opened its doors to the public earlier this year.
Published 30 October 2013