World news story
Acting British High commissioner speech on Violence Against Women
To mark the International Day for the Elimination of Violence Against Women in Lusaka, Acting British High commissioner Lucy Joyce said;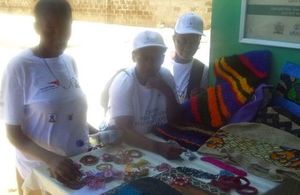 "I am pleased to be here at this press event organised by the EU delegation just ahead of 25 November – International Day for the elimination of violence against women. It marks the start of an international campaign by the British Government through its missions overseas, 16 days of activism against Gender Violence, ending with Human Rights Day on 10 December.
"Ending violence against women and girls is a priority for the UK at home and overseas. Around the world 35% of women and girls will experience some form of physical or sexual violence during their lifetime. Gender Based Violence is both a health and a human rights concern: it inflicts physical and emotional harm and prevents women from achieving their full potential. It strains health systems' resources, limits women's growth and productivity and impedes the well being of families and communities.
"The extent of the challenge in Zambia is huge, with almost half of adult women reporting violence, a third of women bearing a child before the age of 20 and some figures suggesting that 40% of women are married before the age of 18, many of them much younger.
"Zambian Government has taken a strong lead in the fight against gender based violence with the implementation of the Anti-Gender based Violence Act, its leadership on child marriage and the recent launch of the HeforShe campaign by the President.
"However, Zambia urgently needs to increase the number of shelters available for survivors of Gender Based Violence, and needs to accelerate both the implementation of the Anti-Gender Based Violence Act, and the establishment of the Fast-Track courts. I was pleased to see that the Ministry of Gender is also planning 16 days of Gender activism from Wednesday, including the police launch of HeforShe and the launch of the Fast Track Courts.
"UK Government in Zambia: UK Government, through DFID, is providing a total of £2.3m to promote gender equality and women's empowerment in Zambia.
"In Zambia, DFID is also providing £8m to support the Stamping Out and Prevention of Gender Based Violence programme (STOP GBV). We work alongside USAID, the Zambian Government and others to establish one stop centres for Gender Based Violence across Zambia.
"Through our Adolescent Girls Empowerment Programme (AGEP), DFID is providing £10.4 million to empower over 10,000 adolescent girls (aged 10-19) in both rural and urban Zambia to keep them healthy, in school and delay the age at which they become pregnant for the first time.
"We also support the Ministry of Gender in its valuable efforts to promote women's empowerment and gender equality in the country (though the implementation of its Programme on the Promotion and Protection of Women and Children).
"Thank you for coming here today, and thank you in advance for coming to the STOP GBV centre where you will hear survivors' testimony, and see for yourselves the excellent work which is done in such centres.
"Thank you."
Published 23 November 2015