Achieving Progress in Afghanistan: The Political Dimension
Foreign Office Minister Alistair Burt has taken part in an event hosted by the International Institute for Strategic Studies (IISS) to discuss the Government's role in Afghanistan.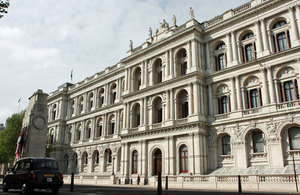 The event 'Achieving Progress in Afghanistan: The Political Dimension' focused on political progress in Afghanistan and the Kabul conference on 20 July, which aims to secure agreement on key policy proposals, including governance, anti-corruption and security.
Visit the IISS website to watch a recording of the discussion.
The Government has made clear that it does not want British soldiers to remain in Afghanistan any longer than necessary. We will not succeed in bringing about a more secure Afghanistan by military means alone - an effective Government of Afghanistan and an inclusive political settlement is vital to lasting peace in the country. As the Prime Minister said in his 14 June statement to the House of Commons:
"I do not pretend that we can succeed, either in Helmand or in Afghanistan as a whole, by military means alone. Insurgencies usually end with political settlements - not military victories, and that is why I have always said that we need a political surge to accompany the military one."
The international military presence in Afghanistan since 2001 has resulted in the expulsion of Al Qa'ida from Afghanistan. International terrorist activity has been disrupted and reduced throughout the country. However, this will only be sustained by Afghanistan becoming a stable and secure state that is able to suppress terrorism and violent extremism itself.
Mr Burt was joined at the IISS by Afghanistan's Ambassador to the UK, Homayoun Tandar, and British Ambassador to Afghanistan, Sir William Patey.
Published 8 July 2010