News story
Accident involving a track worker near Redhill, 24 June 2014
Investigation into an accident involving a track worker who was supervising a gang carrying out track maintenance work near Redhill, Surrey
This news article was withdrawn on
This item has been moved to the National Archive as RAIB has published its report describing this accident. See Report 06/2015.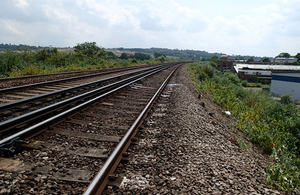 The accident occurred at about 10:40 hrs. The track worker was struck by a passenger train and suffered serious injuries.
The injured person was with a gang of eleven people engaged in undertaking repairs to the Up Quarry line between Redhill Tunnel and Quarry Tunnel. The train, a passenger service from Gatwick Airport to London Victoria, was travelling at about 80 mph (129 km/h).
Our investigation will consider the sequence of events and factors that may have led to the accident, and identify any safety lessons.
Our investigation is independent of any investigations by the safety authority or the police. We will publish our findings at the conclusion of our investigation. This report will be available on our website.
You can subscribe to automated emails notifying you when we publish our reports and bulletins.
Published 8 July 2014