News story
Access to finance improvements for small businesses welcomed by Economic Secretary
Economic Secretary Andrea Leadsom visits a thriving nursery in Harrow and an alternative lender in Watford to welcome improvements in access to finance for small businesses.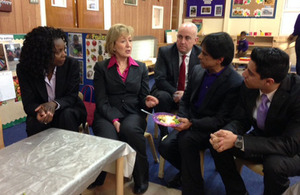 The City Minister visited a local Santander branch in Harrow to look at what challenger banks are doing to help local businesses and met the owners of Harmony Nursery in Harrow – a thriving local small business that has directly benefited from Santander support.
She ended the tour visiting DLL Finance, an asset-based lender in Watford to see how alternatives to traditional bank lending can also help businesses grow.
This continues a series of visits by the City Minister to witness firsthand how the financial services industry is thriving outside the square mile and contributing to the wider economy.
The Economic Secretary to the Treasury Andrea Leadsom said:
A key part of our long term economic plan is to ensure that small businesses are able to access the finance they need to grow and succeed.

The best way to deliver this is to increase competition in the sector and remove the barriers to new sources of finance for SMEs. That is why it's great to see first-hand how Britain's traditional and alternative banking sector is expanding and enabling small businesses in Harrow and Watford to go from strength to strength.
SMEs are vital to Britain's economy, accounting for over half of private sector employment and nearly half of all private sector turnover.
That is why the government is taking action, because the ability of SMEs to access finance is key for funding investment and ensuring these businesses can grow and create jobs.
In October last year, the government published draft legislation, in the Small Business Enterprise and Employment Bill, which introduced new measures to support SMEs get the finance they need to grow, including by helping them seek out alternative lenders if the big banks turn them down for loans.
The bill is expected to come into force in early 2015.
Visit the Business is GREAT website for more information on how to grow your business.
Published 12 February 2015