Accelerating progress on clean energy
Energy ministers meet in London to advance international cooperation on clean energy.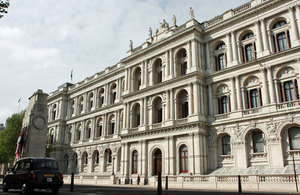 Ministers from 23 leading economies are gathering in London on 25 - 26 April to explore ways to enhance collaboration on clean energy.
The Clean Energy Ministerial is being co-chaired by UK Secretary of State for Energy and Climate Change Edward Davey and US Secretary of Energy Steven Chu.
Alongside the talks, Ed Davey will sign a number of bilateral agreements with counterparts from other governments to work in collaboration over the coming years.
The UK and US will agree to collaborate in the development of floating wind technology designed to generate power in deep waters currently off limits to conventional turbines but where the wind is much stronger.
Secretary of State Ed Davey said:
"We need to commit to our vision of a cleaner future - and show people what that future will hold.
"The benefits that clean energy will bring, for those who need it - and those who develop it.
"Each of the nations represented here today - and many more - are finding their own path to a cleaner future. Emerging economies and energy-rich nations alike are embracing the low-carbon shift.
"The Clean Energy Ministerial is about learning from those who are leading."
The 11 main themes covered at the CEM3 will include: energy efficiency, appliances, buildings/industry, electric vehicles, bioenergy, carbon capture and storage, hydropower, solar, wind, energy access and smart grids. There is a special emphasis on clean energy entrepreneurs and encouraging women to enter the sector.
.
Published 25 April 2012