Academy funding: comment from the Department for Education
The Department for Education comments on media stories on academy funding.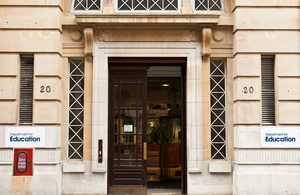 A Department spokesman said:
The current system of academy funding was introduced by the last government. It relies on local authorities to provide accurate information about their spending and occasionally individual local authorities make errors which lead to academies getting too much or too little funding. It is wrong to blame Departmental officials for errors that have occurred in local authority returns.
Further information
Academy top-up funding (LACSEG) is calculated on the basis of info given to the Department by local authorities. This is via the section 251 form - this is a complex form and sometimes local authorities put some spending into the wrong category. Because the dept relies on this data, if it's wrong then some academies get too much or too little top-up funding. The vast majority of local authorities are able to provide the correct data. This system was introduced under the last government and mistakes along these lines have happened in previous years. The Government has said many times that the system is unfair and unclear, that is why we're proposing changes to the school funding formula.
DfE enquiries
Central newsdesk - for journalists 020 7783 8300
General enquiries - for members of the public 0370 000 2288
Published 16 June 2011