Press release
Aarti Thakor appointed as Charity Commission's new Director of Legal Services
Aarti joined the Commission in 2008 and has extensive experience in charity law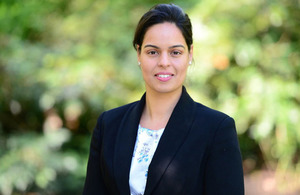 The Charity Commission, the independent regulator of charities in England and Wales, has today announced that Aarti Thakor has been appointed as its new Director of Legal Services.
Aarti has been part of the Commission's legal services directorate since 2008 and is currently Head of Legal Compliance, providing legal advice on the highest risk and most complex investigations into charities and other high risk matters. During her time in the role, Aarti has contributed to a number of legislative changes and recently led the Commission's work in the development of the Charities Act 2016 and its passage through Parliament. Prior to joining the Commission, Aarti served as in house Counsel for the United Nations in Rwanda and at the Commonwealth Secretariat in London, and has also worked as a barrister in chambers dealing with a number of civil and criminal matters.
Helen Stephenson, Chief Executive of the Charity Commission, said:
I am delighted to welcome Aarti to my senior team as Legal Services Director. Aarti was the outstanding candidate among a strong group of applicants and brings exceptional leadership qualities, as well as extensive technical expertise and experience. I have no doubt that under her leadership, the legal services directorate will continue to flourish, ensuring the legal integrity of our work as regulator and providing excellent advice to the board and the wider Commission.
Aarti Thakor added:
I am thrilled to have been appointed as the Commission's Director of Legal Services. I look forward to leading what is a talented and committed team of lawyers and support staff, who together play a central role in upholding good governance in charities and building public trust in the sector.
The Director of Legal Services is responsible for securing the legal integrity of the Commission's regulatory work by handling high profile, sensitive and complex cases and policy issues and providing an efficient and effective legal advisory service to the Board and Board Committees. They are influential in the continued development of the future legal framework for charities and are closely involved in developing parliamentary bills, secondary legislation and Charity Commission guidance to develop the law and policy affecting charities and charity regulation. The Director of Legal Services is also responsible for all litigation involving the Commission.
Aarti replaces Kenneth Dibble who relinquished the role in March 2018 after being appointed as a board member. Aarti takes up the role from today (21 May).
Ends
Notes to editors
The Charity Commission is the regulator of charities in England and Wales. To find out more about our work see the about us page on GOV.UK.
Search for charities on our check charity tool.
Published 21 May 2018