Press release
A57 M1 to Todwick Crossroads improvement given final go-ahead
A new 1 mile stretch of road is planned to help improve economic growth and road safety in Dinnington, South Yorkshire.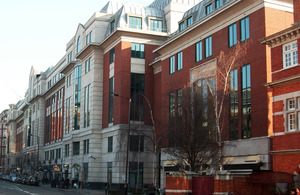 Work on a new £14 million dual carriageway improvement on the A57 in Rotherham can now start, Local Transport Minister Norman Baker announced today (28 June 2012).
The new 1 mile stretch of road will run from the M1 Junction 31 to the B6463 junction. The scheme will unlock significant economic growth potential in the Dinnington regeneration area and improve road safety on this stretch of road.
Norman Baker said:
This is a useful scheme that will provide a boost for the local area by improving journeys for motorists, pedestrians and bus passengers. As well as reducing congestion on the road, this work will improve road safety so it's a win-win for the Dinnington area.

The £11.8 million we are putting into this scheme shows that this government is serious about investing in the infrastructure the country needs to drive economic growth.
The A57 M1 to Todwick scheme was one of 10 given funding approval as part of the spending review announcement in February last year. Work can now start on the main construction with the road scheduled to open in December 2013.
Notes to editors
Today's (28 June 2012) announcement grants full (final) approval to the A57 M1 to Todwick Crossroads scheme enabling work to begin.
The new road, promoted by Rotherham Metropolitan Borough Council, is scheduled to open in December 2013.
The department will provide a maximum of £11.8 million towards the full scheme cost of £14.7 million.
The scheme consists of 1 mile of new dual 2 lane carriageway on the A57 between M1 Junction 31 to the B6463 plus improved pedestrian facilities, bus stops and junction improvements at existing side roads and accesses.
News desk enquiries
Media enquiries 020 7944 3021
Out of hours media enquiries 020 7944 4292
Switchboard 0300 330 3000
Published 28 June 2012