News story
A46 Newark to Widmerpool dualling scheme
Improvements to the A46 have been given the go ahead.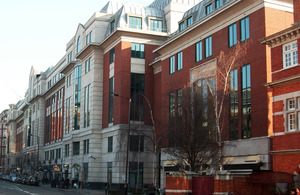 Outstanding matters relating to side roads and private access along the A46 Newark to Widmerpool dualling scheme in the East Midlands have completed their final planning stages, Roads Minister, Mike Penning, announced today (28 July 2010).
In 2008, following a public inquiry, the Department for Transport accepted an independent Inspector's recommendation that the main scheme orders should be made - and the scheme to dual 17 miles of the A46 has been under construction since summer 2009.
Today, suggested amendments to the published scheme - which were considered at a further public inquiry earlier this year - have been accepted by the Department for Transport and included into the scheme.
The amendments involve side roads and property accesses at nine separate locations.
Mike Penning said:
The A46 is an important regional strategic road connecting the East and West Midlands and this improvement scheme will reduce congestion, improve safety and provide a bypass for East Stoke and Farndon. I am therefore pleased to announce that these outstanding matters can now be included into the improvement scheme that is under construction.
The scheme is expected to be completed and open to traffic in summer 2012.
The work will dual the last remaining single carriageway section between M1 Junction 21a north of Leicester and Newark Western relief road.
Further information
Today's decision is in response to the Secretaries' of State for Transport and Communities and Local Government's earlier decision of 18 December 2008 following consideration of the Inspector's report of the local inquiry held in 2007, where the Secretaries of State accepted the need to reconsider design aspects of some of the earlier proposals in respect of side roads and means of access to property. These supplementary orders result from the reconsideration of those aspects of the scheme at nine separate locations.
A local public inquiry into the supplementary orders was held on eight sitting days between 12 January and 14 April 2010, at the Cotgrave Welfare Centre, Cotgrave in Nottinghamshire, before Mr W S C Wadrup, BEng(Hons), CEng, MICE, FCIHT, an independent Inspector appointed by the Secretaries of State for Transport and for Planning.
Today's decision follows acceptance of the inquiry inspector's recommendation in his report to the Secretaries of State.
Roads media enquiries
Media enquiries 020 7944 3021
Out of hours media enquiries 020 7944 4292
Switchboard 0300 330 3000
Published 28 July 2010