Press release
A3 Hindhead tunnel maintenance continues
Overnight maintenance to the jet fan system at the Hindhead tunnel will be carried out over the next five weeks to keep journeys safe and reliable.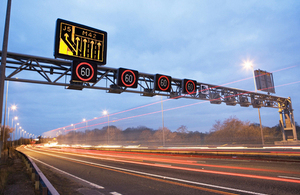 The work will involve overnight closures of one tunnel at a time, with the other tunnel remaining open and a contraflow system in place so traffic can continue in both directions. It is due to be completed at the beginning of June.
Highways Agency Project Manager Anne-Marie Palmer said:
Maintenance of any infrastructure is required over time and following the improvements to the supply of electricity to the tunnel, we are now taking the opportunity to carry out maintenance of the jet fans.

We have planned the work to allow one tunnel to remain open so that one lane will be open to traffic in each direction. It will be carried out overnight, when traffic flows are lowest, to minimise disruption.
Work will take place overnight, between 10pm and 6am, on the following dates:
Tuesday 6 to Friday 9 May
Monday 12 to Friday 16 May
Monday 19 to Thursday 22 May
Tuesday 27 to Friday 30 May
Monday 2 to Friday 6 June
During the closures one tunnel will be closed and road users will be able to continue their journeys using the other tunnel in a contraflow with a temporary 40mph speed limit.
The Highways Agency manages 11 tunnels on the strategic road network in England and all of these require maintenance to ensure that road users remain safe. The Hindhead Tunnel is the newest tunnel on the road network and, since opening, it has brought benefits to drivers, the economy and the environment.
Routine maintenance of the Hindhead tunnel has been planned for the following dates in 2014:
Monday 28 April to Thursday 1 May: northbound bore closed
Monday 2 to 5 June: southbound bore closed
Monday 14 to Thursday 17 July: northbound bore closed
Tuesday 26 to Friday 29 August: southbound bore closed
Monday 6 to Thursday 9 October: northbound bore closed
Monday 17 to Thursday 20 November: southbound bore closed
Traffic will use the opposite bore in a contraflow with a 40mph speed limit.
General enquiries
Members of the public should contact the Highways Agency Information Line on 0300 123 5000
Media enquiries
Journalists should contact the Highways Agency press office on 0844 693 1448 and use the menu to speak to the most appropriate press officer
Published 1 May 2014