World news story
A Vision for the UK in Europe: speech by the Deputy Prime Minister Nick Clegg
Deputy Prime Minister Nick Clegg made a speech about his vision for the UK in Europe on 1 November 2012.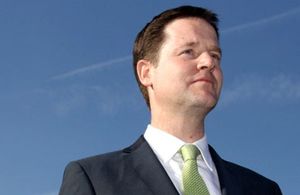 This autumn, the great debate on Britain's role in Europe has, as ever, generated a lot of heat yet little light.
We want to be in, we want to be out. We want to repatriate powers, use our veto, keep our pint, save our pound, protect our strongest export market.
Be critical of Germany, not end up like Greece, feel proud of our role in creating peace in Europe, yet cynical about an acronym winning the Nobel Prize.
Published 1 November 2012