World news story
A view of the Falkland Islands by the British Consul in Uruguay
Katharine Felton writes the highlights of her one week experience in the archipelago.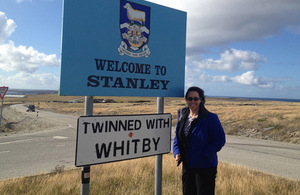 by Katharine Felton
Last week I visited the Falkland Islands for the first time - to learn more about the Islands and look at how their links with Uruguay, and vice versa, can be strengthened.
I flew from Montevideo via Santiago and Punta Arenas to get to the Islands. Traditionally, it took four days sailing time to cover the 1870km that separate Montevideo and Stanley. This route used to be regularly crossed by the Darwin, carrying passengers and cargo between the two cities. As a result Uruguay has a special place in the heart of many Falkland Islanders, with many having studied at the British Schools or spent their summer holidays here. There was even a Uruguayan Consulate in the Islands, the shield of which is on show at the excellent Historic Dockyard Museum in Stanley.
But these links are certainly not just historical. During my visit I met Uruguayans who call the Falkland Islands home. I saw Uruguayan fishermen reporting for work, ready to set sail for the South Atlantic. People on the Falkland Islands enjoy the range of Uruguayan products, particularly fruit and vegetables, stocked at the local supermarkets. I also met up with Falkland Islanders who have received life-saving medical treatment at the British Hospital in Montevideo. Last year, a group from the Falkland Islands took part in Expo Prado, showcasing the opportunities for tourism and trade. We look forward to welcoming them again in September.
I met representatives of the Falklands business community and the members of their Legislative Assembly. All are keen to strengthen the business links with Uruguay. There is interest in, and demand for, Uruguayan goods in a range of sectors, including: meat and meat products, consumer goods, furniture, motorbikes, construction and road building materials.
Is it like the UK? To a certain extent. People drive on the left, mostly in Land Rovers. They eat (delicious) fish and chips. They watch the BBC and go to the pub, where they enjoy live music and stand-up comedy nights. Most people there are either born on the Islands or in the UK, but Spanish is overheard regularly in the streets and shops, with lots of Chileans and Peruvians living and working there. Supermarkets and restaurants cater for a range of tastes, from the Philippines to Latin America via Europe and North America. Whilst the weather ranged from sun to snow while we were there, it's impossible not to be struck by the wild beauty of the Falkland Islands. The countryside is rugged, the beaches pristine. A bit like Scotland - but with elephant seals and sea lions and also a few last penguins preparing to migrate north for the winter. Falklands Conservation even introduced us to a recently rescued Gentoo penguin. I tried my best to give him his lunch but he didn't seem too keen!
However, the Falkland Islands are different. I often hear people say that Uruguay is a small country. But imagine providing services from education to health, running a world-class, sustainable fishery and providing a fantastic tourist experience with a population of just under 3000 people. Needless to say they're resourceful –with lots of people doing more than one job. And they recruit from around the world where they need to. But they govern themselves and administer their own budget (the only areas the UK government covers are defence and foreign policy). They're proud of their identity and are keen to promote their way of life with their neighbours in Latin America.
All in all, a fantastic week. If your business is interested in learning more about selling to the Falkland Islands please let us know at ukinuruguay@adinet.com.uy. And for more information on visiting the Islands please check out http://www.facebook.com/naturesbestkeptsecret
Published 15 April 2016