Press release
A thousand community assets protected in listings bonanza
Stephen Williams pays tribute to communities that have used new powers to protect around 1,200 local assets.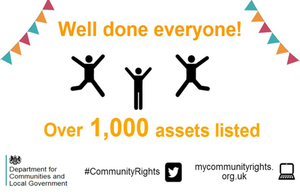 With millions of people using the bank holiday weekend to enjoy public facilities in their area, Minister for Communities Stephen Williams today (26 May 2014) pays tribute to all communities that have used new powers to protect around 1,200 local assets from sell off across England.
The fast growing list of treasured community assets now protected includes:
374 pubs
91 parks
37 libraries
35 village halls
24 sports grounds and stadiums
12 theatres and museums
One of the most recent uses of community rights was by the Friends of Blencathra who have taken the unusual step of applying to list the Blencathra peak in Cumbria, England's eighth highest mountain to protect it from being sold.
Stephen Williams said:
Unlike past governments who thought they always knew best, we have said we want to put the real experts in charge of running their community: local people.

We created new community rights precisely to allow people to list the local assets most important to them so they are publicly protected should they ever be put up for sale.

It is fantastic to see the ingenuity and enthusiasm that people are displaying for their community with over 1,000 parks and buildings now listed, and that number is growing fast.
Under powers created by this government people can put forward a community asset to their council to have it listed as a protected asset and, if approved, this gives a 6 month window for the community to put in a bid to buy it should it be put up for sale.
For examples of listed assets see the winners from a £5 million fund to support 17 community assets listings.
A further £3 million fund is currently open for bids.
Across the country over 2 million people have used or benefited from these new powers to run their community. As well as giving people the power to list local assets the government is:
encouraging local people to decide where development takes place and what it looks like in their area, with over 1,000 areas beginning work on neighbourhood plans

making it quicker to create parish councils with 17 campaigns for new parishes having received government funding, and changes coming to the rules to make it easier to start the parish council creation process too; newly created Queen's Park parish in West London has just had its first election

enabling people to raise money through community shares to take over local assets; over 15,000 people invested £15 million last year in shares in community enterprises, including £500,000 to help save Hastings Pier, and 27 pubs are now co-operatively owned with an average of 1 pub a month opening as a cooperative

getting over 120 areas enrolled on the 'Our Place' programme to bring together communities, voluntary organisations, businesses, public services and elected officials to tackle local issues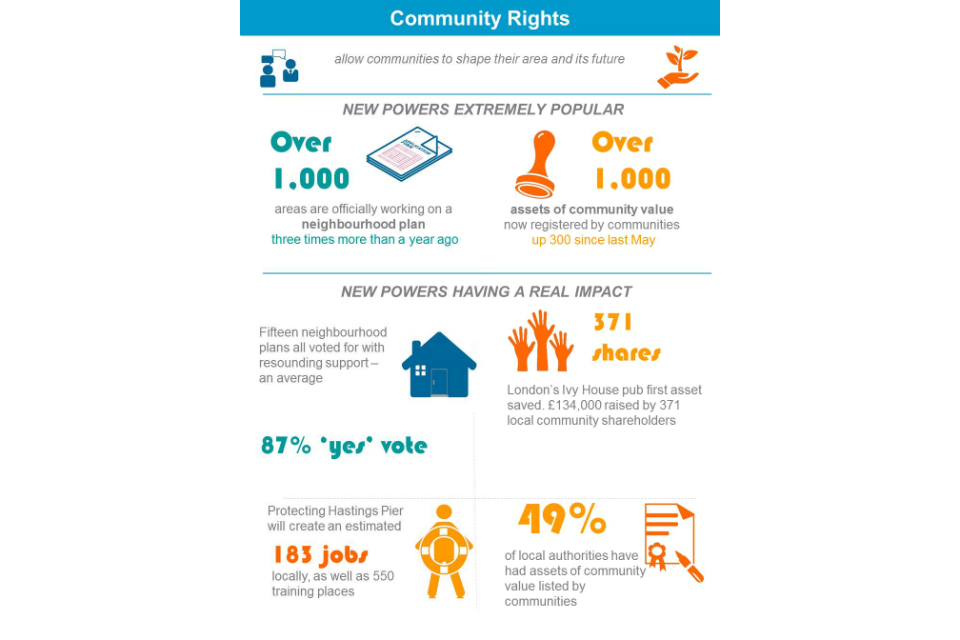 Further information
Want to get involved in your community? See details about how.
View our Community Rights Pinterest board.
Office address and general enquiries
2 Marsham Street
London
SW1P 4DF
Contact form http://forms.communiti...
General enquiries: please use this number if you are a member of the public 030 3444 0000
Published 26 May 2014