News story
A summer of music - 330 free 'big gig' concerts announced
Locations and line-ups of concerts announced by Don Foster.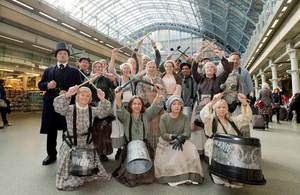 Communities Minister Don Foster has today announced the locations and line-ups of 330 free concerts this summer across England, bringing people from all backgrounds together to listen to the best local musicians.
The concerts will be free for everyone - the audience and the musicians - and will take place at a wide variety of venues suitable for all ages from churches and cafés to parks to pubs, as well as a mosque, a Roman palace and a rugby club.
One month to go
With over 200,000 people due to attend, the concerts - which run from 11 to 14 July - are expected to draw even bigger crowds in total than events such as Glastonbury.
The events will include nine 'super concerts' in city centre venues that can handle and attract bigger audiences and an even wider range of acts.
As well as seeing live performances people will be able to have a go at music themselves with activities including drumming workshops, making their own instruments to form an orchestra and playing a giant xylophone.
The competition to host concerts was launched at St Pancras's 'Station Sessions' in April, featuring Don Foster on ukulele and the Olympics opening ceremony 'Pandemonium' drummers, and its popularity meant the total number of concerts has been increased from 250 to 330.
Watch a video of the Our Big Gig launch
Video transcript (MS Word Document, 21KB)
See details of the 25 April launch
Don Foster said:
This summer hundreds of thousands of people across the country are going to see fantastic local performers play a huge variety of music from around the world right on their own doorstep, sometimes for the first time, and get to know other members of their community better into the bargain.
Last year 200,000 people attended 224 community-led performances on the closing day of the Paralympics - this summer Our Big Gig is set to play to even more crowds with an amazing 330 concerts being planned.
Don Foster also said:
This shows once again that our Olympic legacy will be remembered not just as an excellent sporting event, but as something that continues to bring people from all different backgrounds together. The government pledged that the games' legacy would carry on and events like Our Big Gig, free and open to everybody, are making good on this promise.
Our Big Gig is organised by the Superact arts organisation, with the Department for Communities and Local Government as the main sponsor. The programme is part of the UK Government's Olympics legacy commitment and builds on the Bandstand Marathon.
Katharine Lane of Superact said:
We have been overwhelmed by the amazing response from communities wanting to get involved in Our Big Gig this year. Our network of regional managers have been recruiting local volunteers for the past six weeks and have programmed a diverse range of musical activities up and down the country. Thanks to support from DCLG and Arts Council all events are free for local people to go along to and we really hope that people will be inspired to get involved in music making after attending an Our Big Gig event in July.
To find out more including the list of gig locations go to Our Big Gig website.
Notes to editors
The Department for Communities and Local Government is providing £400,000 funding to Superact, a not-for profits arts organisation, to deliver the overall project, which includes training Community Event Organisers and issuing grants to 310 of the events, to cover costs such as public address systems, licences and insurance.

The funding is also enabling Superact to support a further 20 events by providing advice and guidance on organising and publicising their event.
Published 11 June 2013