World news story
A successful celebration of World Environment Day in Ecuador
The British and German Embassies in Quito held a conference to provide information on key environmental projects being carried out in Ecuador.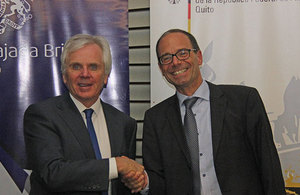 The conference took place on Tuesday 9th September in the Sheraton Hotel, Quito, providing information about important projects being carried out in Ecuador in the field of environmental conservation and renewable energies. The conference was organised by the British and German Embassies in Quito as part of World Environment Day. There were simultaneous events being celebrated in London, Paris and over 20 other countries around the world, with the purpose to raise awareness of key environmental issues such as climate change, promote international cooperation and share successful projects being carried out in this area. There was an excellent turnout to the event, with participation from local media, government departments and NGOs.
Check out the photo gallery of the event in our Flickr account
Speakers at the conference included Luis Manzano from the the Ministry of Electricity and Renewable Energies, Eduardo Noboa, Executive Director of the Institute for Energy Efficiency and Renewable Energies and Andy Kerr, Executive Director for the Edinburgh Centre for Carbon Innovation of the University of Edinburgh. Also, the Charles Darwin Foundation highlighted the importance of the mangrove finch conservation, while WWF Ecuador explained about its solar-powered boat Solaris, as well as their important work in nature conservation in the country.
The British and German Embassies would like to thank the speakers and all the guests who attended, which made it possible for the event to be a success.
Get the latest news in our Twitter or Facebook accounts.
Published 11 September 2014