A spin cycle that is saving lives in Helmand
Two Roll Over Drills Egress Trainers (RODETs), armoured hulls kitted out just like a real vehicle that can be completely rotated, are teaching troops in Camp Bastion how to escape from their vehicles if they roll over on difficult terrain, or following an IED blast.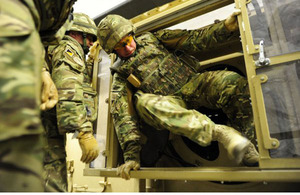 If one of the British Army's latest generation of armoured vehicles is struck by an improvised explosive device, or rolls over on difficult terrain, the soldiers inside need to know how to protect themselves and safely exit the vehicle.
Two RODET units, which can simulate a vehicle rolling and coming to rest upside down or on its side, are in use at Camp Bastion (and eight further units in the UK/Germany), and every soldier likely to go 'outside the wire' experiences the delights of going for a spin.
According to Captain Dougie Douglas, the officer responsible for reception, staging and onward integration training at the huge base, the RODET is dramatically improving British soldiers' chances of surviving a vehicle incident without suffering serious injury. He said:
It's the basic stuff - wearing seat belts, stowing equipment securely and keeping the vehicle clean inside. Some people are just about double their normal weight with their body armour and combat equipment on.
If the person opposite you gets thrown on top of you, or you get thrown out of your seat against the roof of the vehicle, you could be severely injured. Seat belts save lives, even in a combat zone.
Equipment stowage is important, as items like boxes of ammunition can become projectiles inside a vehicle:
We illustrate the point using foam rubber ammo boxes", said Captain Douglas. "Being hit in the face by a rubber ammo box is simply a bit annoying - but if it was a real steel one, with 250 rounds of machine gun ammunition inside, that could be fatal.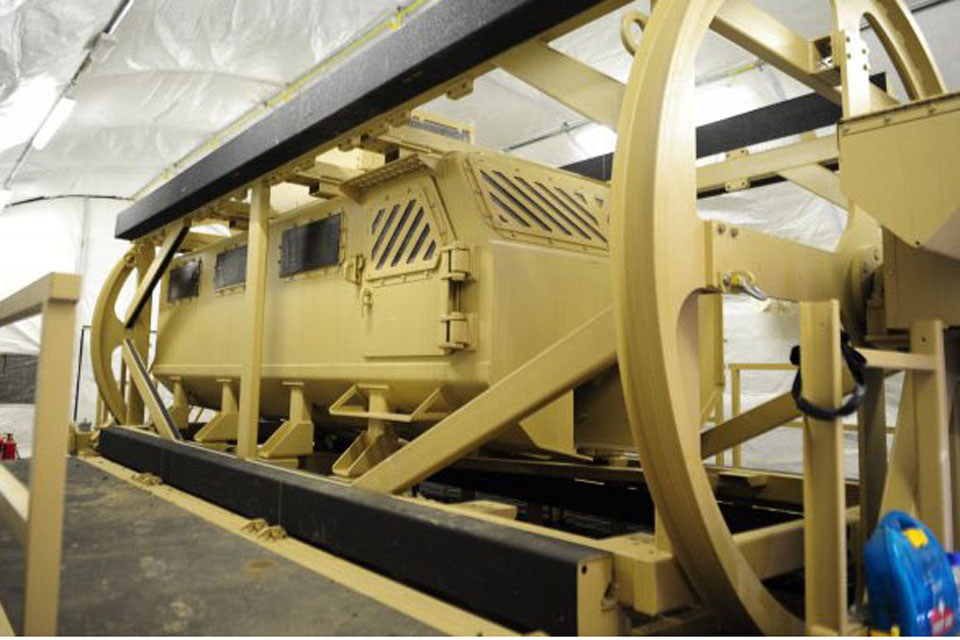 Each RODET session includes the vehicle coming to rest at different angles, with the occupants being told to exit through a different door each time.
There are techniques to be learnt, such as getting out of a four-point safety harness when hanging from what is now the roof without falling across the vehicle, and extracting a wounded or unconscious casualty.
Every move is watched by the operator using a series of night-vision cameras mounted inside the simulator.
A clean vehicle is a safe vehicle, even in the dusty wastes of Afghanistan, as RODET instructor Sergeant Andy Hale of the 9/12 Royal Lancers pointed out:
As soon as the hull turns over you can see all the dirt and gravel on the floor of the vehicle fly upwards. The same thing happens in an IED strike. The guys learn to keep their protective glasses on, even in the vehicle, but they still come out of the RODET with a face full of dust.
For Captain Douglas, the RODET is a lifesaving investment that has already demonstrated its value:
Soon after we started the training we had a Mastiff vehicle roll over on an obstacle on the driver training course, " he said. "Everyone rushed over, expecting the worst - but the guys were just extracting themselves exactly as we teach them. Perfect.
Published 19 May 2011