World news story
A society where women shine
Today is the International Day for the Elimination of Violence Against Women, and the Preventing Sexual Violence Initiative is only gathering support. Today also sees the start of 16 Days of Gender Activism, which will run right through to International Human Rights Day on 10th December.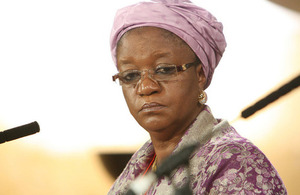 2013 has been a busy year worldwide for the Preventing Sexual Violence Initiative, which was launched by Foreign Secretary William Hague and UN Envoy Angelina Jolie in May 2012. In April G8 Foreign Ministers signed a Declaration to work together to end the scourge of wartime rape and sexual violence against women, men and children. This led to a new UN Security Council Resolution in and 135 countries endorsing the Declaration to End Sexual Violence in Conflict at the UN in September.
In Japan we have seen Angelina Jolie, Foreign Minister Fumio Kishida, and former President of JICA Sadako Ogata address a huge audience in Tokyo and online, and most recently UN Special Representative Zainab Hawa Bangura visited as a guest of the Government of Japan where she met Prime Minister Shinzo Abe and praised his vision for 'a society where women shine'.
Speaking at a press conference during her visit Ms Bangura said:
The unacceptable reality is that today it is still largely 'cost-free' to rape a woman, child or man in conflict. Sexual violence has been used through the ages precisely because it is such a cheap, and at the same time, devastating weapon…But for the first time in history we can reverse this reality.
I believe that we have the collective will, and increasingly the tools, to make it a liability for parties to use sexual violence as a weapon of war. The resolve of the international community has set us firmly on the path of accountability and prevention.
Further Information
Read the G8 Declaration on Preventing Sexual Violence in Conflict
Read more about the Preventing Sexual Violence Initiative
Click here for more details of the 16 Days campaign
More information on the Preventing Sexual Violence Initiative at our tumblr
Find out more about the UK's work to support women and girls around the world
Follow on twitter @FCOhumanrights or follow the hashtags #timetoact, #sexuaviolence, #conflict and #G8UK
Published 25 November 2013