News story
A sea of poppies to honour the fallen
Defence Secretary attends launch of art installation at Tower of London to remember those who fought in the First World War.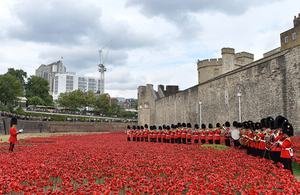 Last night saw the launch of a major art installation at the Tower of London to honour the fallen soldiers of the First World War. Entitled 'Blood Swept Lands and Seas of Red', the huge and evolving art installation has seen the dry moat of the Tower filled with ceramic poppies to remember those who fought in the First World War 100 years ago.
Michael Fallon, the Secretary of State for Defence, was among guests who attended the launch.
At the event, the Band of the Welsh Guards played 'Hymn to the Fallen' and songs from the First World War before performing a joint piece of music written specifically for the event, 'The Man We Never Knew' by Edward-Rhys Harry, with the London Welsh Male Voice Choir.
Major Kevin Roberts, Director of Music for the Band of the Welsh Guards, said:
It was a deeply moving and dramatic way to end this momentous occasion and a great privilege for all the musicians involved.
At twilight, the minute guns of the Honourable Artillery Company, the City of London's Army Reserve regiment, fired a 21-gun salute, and Lance Corporal Stuart Laing, a bugler from the Band of the Welsh Guards, played the Last Post surrounded by a sea of red poppies.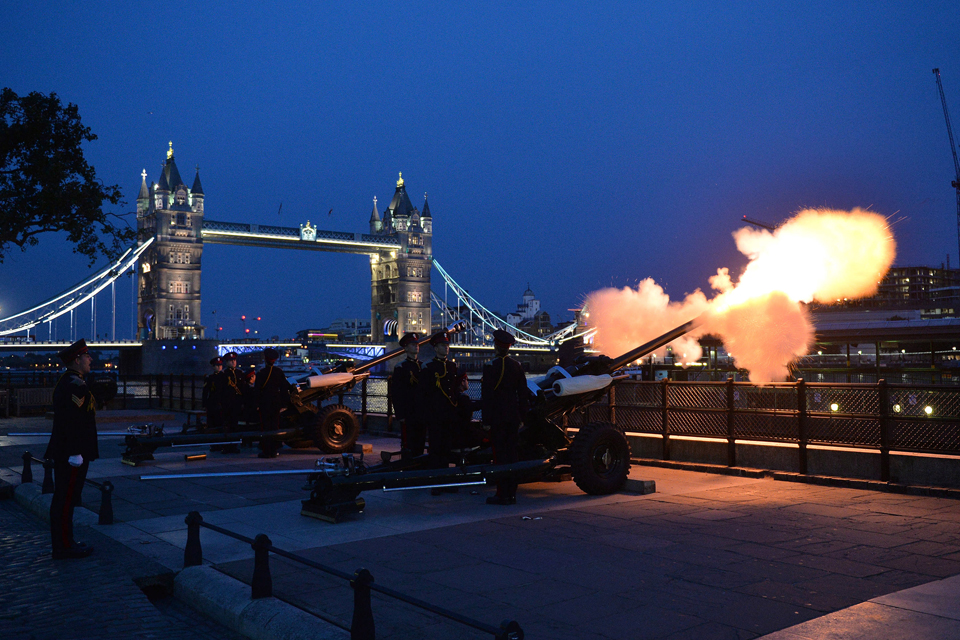 Created by ceramic artist Paul Cummins, the installation will continue to grow throughout the summer until the moat is filled with 888,246 ceramic poppies, one for each British and colonial fatality during the war.
Poppies will be added to the moat every day by a team of over 8,000 volunteers, which include military personnel. The last poppy will be planted on Armistice Day, 11 November 2014.
General the Lord Dannatt, Constable of the Tower of London, said:
For this important anniversary year, we wanted the Tower of London's commemorations to serve as a fitting tribute for the 16 million people across the globe who lost their lives during the First World War.
Each poppy is available to buy for £25 (plus postage and packing), and 10% from each poppy will be shared equally amongst 6 service charities: the Confederation of Service Charities, Combat Stress, Coming Home, Help for Heroes, the Royal British Legion and SSAFA (formerly the Soldiers, Sailors, Airmen and Families Association).
Published 6 August 2014