News story
A roadmap to combating honour-based violence in Iraqi Kurdistan
Minister for the Middle East Alistair Burt gave his support for a report and action plan to combat honour-based violence commissioned by the Kurdistan Regional Government.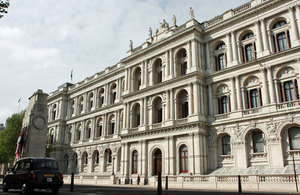 While in Iraq, the Minister for the Middle East commented on the report:
"I am extremely pleased to be here and add my support to this comprehensive study on the honour-based violence and honour-based killings in Iraqi-Kurdistan and in the Kurdish Diaspora in the UK.
Honour crimes have no place in a modern society and I have been heartened by the Kurdistan Regional Government's efforts to crack down on them. No matter how unacceptable, traditions will always be difficult to change. Dealing with these crimes requires courage and determination and I welcome the Kurdistan Regional Government's leadership and commitment to bring an end to impunity in this area. I am proud that, through Roehampton and Bristol Universities, the UK is supporting such crucial work.
This report marks an important step. The recommendations offer a roadmap to combating honour-based violence in Iraqi Kurdistan. The UK will continue to work with the Kurdistan Regional Government in realising this goal."
The report found that the Kurdistan Regional Government and the various agencies in Iraqi Kurdistan Region have made some helpful progress in addressing honour-based violence in the Region. For example, the passing several notable legal amendments to reduce violence against women and crimes in the name of honour.
These actions have set a positive precedent, although the research evidence demonstrated that their implementation does need some improvement. Honour-based violence remains prevalent in Kurdish communities in different locations (as well as among other peoples in different countries across the world). The conclusions of the study were that honour-based violence manifested in broadly similar ways for Kurdish communities in both Kurdistan Region and the UK.
Awareness of honour-based violence in Kurdistan is now emerging. In this work, Iraqi Kurdistan is taking a lead across the wider global region of the Middle East. The research produced an Action Plan for the Kurdistan Regional Government and for Kurdish agencies, as well as recommendations for the UK.
Published 25 November 2010