Press release
A new era for the Planning Portal website
Expressions of interest invited for investment opportunity in a leading information website.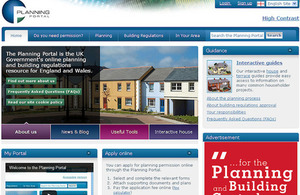 The Planning Portal website that provides a one-stop shop for processing planning applications and accessing guidance, is now accepting expressions of interest for investment to ensure it's enhanced to deliver a more comprehensive service and exploit further commercial opportunities, Planning Minister Nick Boles announced today (1 August, 2013).
The website is an important service that helps boost growth by ensuring the planning system can be swiftly and efficiently navigated. The business occupies a unique market position and hosts significant quantities of valuable data on the industry and the development pipeline, such 'big data' opens up significant commercial opportunities.
The Department for Communities and Local Government is now seeking indicative bids and innovative ideas, to help decide the best options for the investment future of the Portal and to improve the website. This is an exciting commercial opportunity for an experienced partner to work alongside the department.
All planning authorities in England and Wales are linked to the Portal and the business hosts significant quantities of data on the construction industry and future developments.
Planning Minister Nick Boles said:
There is huge potential to take the Planning Portal to the next level and provide a tool for both homeowners and businesses, including generating benefits from the data that it holds.

We have built a business that is well run and has a strong brand but now is the time to look for investment for the site to fulfil its full potential. We are committed to improving the Portal and bringing in external expertise is the best way to ensure the site works at its very best in the future.
The Portal has more than a million visits each month, receives around 320,000 planning applications a year with all but 1 authority allowing planning applications to be submitted electronically through the website. The site also reaches 85,000 professionals each week through its newsletter.
Customers that use the site include councils, architects, small businesses, shop-fitters, advertising companies, householders and housing and retail developers.
The government is flexible about the future model and welcomes proposals that could include the government retaining a small stake, granting a licence or management contract or the business becoming or having a mutualisation element. A prospectus is now available with more details.
Notes for editors
Around 70% of all planning applications in England and Wales now go through the Portal and this will increase to 80% in 2014 to 2015.
The Portal is the official electronic source of approved Building Regulations documents, with over 2 million downloads a year.
Published 1 August 2013