A new decentralised Britain
The Deputy Prime Minister and Decentralisation Minister Greg Clark have set out plans to create a new decentralised Britain.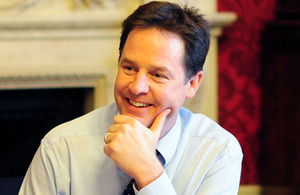 Mr Clegg said the Coalition Government believed a radical shift of power from the centre to citizens and communities would give more control and freedom back to people to manage their own lives as they see fit.
Under the Localism Bill, more power would be put into the hands of communities, which would need to be complemented by changes to the way government works on all levels.
The Deputy PM said the Bill marked a "watershed in our politics" by giving power away instead of taking more power for the Government.
He added:
This Bill marks the beginning of a power shift away from central government to the people, families and communities of Britain.
The Government has also published Decentralisation and the Localism Bill: an essential guide. It sets out six actions central government will need to take to do things differently - in behaviour, expectation, and culture, which must go alongside the changes in law proposed in the Bill.
These are to:
Lift the burden of bureaucracy
Empower communities to do things their way
Increase local control of public finance
Diversify the supply of public services
Open up government to public scrutiny
Strengthen accountability to local people
Decentralisation Minister Greg Clark said: 
The Coalition Government is determined to redress the balance through a radical shift of power from the centre to citizens and communities. The actions in this guide, embodied in the Localism Bill, will drive our commitment to decentralise power across every department and every level of government - and return power to the people to whom it rightfully belongs.
Read more: Decentralisation and the Localism Bill: an essential guide
Published 13 December 2010