"A huge number of crises to deal with simultaneously in the world"
Foreign Secretary William Hague discussed the areas of concern, and the direction of foreign policy in the coming months.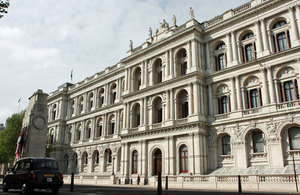 In an interview with Adam Boulton on Sky News, the Foreign Secretary said:
"We have the challenge of Iran developing nuclear weapons, we have the tension in Korea at the moment, the Middle East peace process needs putting back on track, we need to continue to make progress in Afghanistan and try and keep the peace in Sudan in the coming weeks where there are new tensions and support Yemen, a fragile state."
He talked about plans to do more to connect Britain with the fastest growing economies of the world such as Brazil, India and the Gulf.
"What we're doing is not only putting the Ministerial effort and diplomatic effort in to it, but we're setting ourselves up to extend our links in education, in culture as well in diplomacy as well as in commerce with these countries. We're organising our National Security Council so the whole of Government does this and it is really making an impact believe you me in countries like Brazil and India and in many of the Gulf States, they have really noticed this year since the election that the way British Government develops its links with these places has changed, is being transformed and that will go on over the next few years."
The Foreign Secretary confirmed that he will continue to raise human rights issues when necessary.
"The promotion of human rights, of democracy and of the rule of law around the world goes along with working together economically and with the economic success of those countries in the long term. So with for instance the Gulf States we are in a good position to say to them and we do say to them that it's important to continue to improve human rights. We haven't held back in any way on China in what we have said about human rights, about the recent Nobel Peace Prize winner, Liu Xiaobo. I called on International Human Rights Day earlier this month for his release. We don't hold back on saying those things just because we want a successful economic relationship."
On the subject of Sri Lanka the Foreign Secretary said there were "difficult aspects to the relationship."
"We want the Government of Sri Lanka to do better on human rights, to investigate alleged abuses and war crimes in the past. So we have a slightly difficult relationship with Sri Lanka in some ways, but we do meet them and talk to them. I met the Sri Lankan Foreign Minister when he came to London two months ago."
The Foreign Secretary discussed concern in Lebanon as the Special Tribunal inquiry into the murder of former Prime Minister Hariri draws to a close.
"We are very concerned about Lebanon, that is one of our concerns over the coming weeks. We think it's very important that tribunal does its work. I've announced an increase in the British funding for that tribunal, as did the United States with their funding, to make clear that it must go ahead, that justice must proceed in the Lebanon for people to have any confidence in its future.
We're in close consultation with the Government of Lebanon and with our allies about this. But that, along with the situation in Sudan where there is a referendum on the independence of Southern Sudan in early January, those are the two areas in January that are most obvious at this stage to watch for a political crisis or an outbreak of violence. So across the international community we must be ready to do everything we can to assist with those countries."
Published 19 December 2010