World news story
A handover ceremony in the Parliament of Uzbekistan
On 8 November 2013 Her Majesty's Ambassador, Mr George Edgar OBE, attended a handover ceremony in the Parliament of Uzbekistan.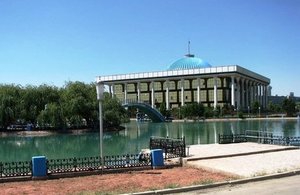 Her Majesty's Ambassador, Mr George Edgar OBE, attended a ceremony in the Legislative Chamber of Uzbek Parliament (Oliy Majlis), where the UNDP presented educational materials for young people about the role and functions of the Oliy Majlis. The project was sponsored by the British Embassy in Tashkent and implemented by the UNDP Office in Uzbekistan in close cooperation with Uzbek parliamentarians.
Mr Latif Gulyamov, Chairman of the Committee for Foreign Affairs and Inter-Parliamentary Cooperation of the Legislative Chamber of Oliy Majlis, Mr. Stefan Priesner, UNDP Resident Representative in Uzbekistan and the British Ambassador took part in the ceremony and discussed the project and its outcomes.
In his speech Ambassador Edgar said: 'We were glad to sponsor production of the educational materials intended to help Uzbek youth to understand better the role of Parliament and political parties in the democratic development of Uzbekistan. I hope it will contribute to young people's interest in participating in the public life of the country, especially in the context of the 2014 Parliamentary Elections in Uzbekistan, when many users of the materials will take part in the elections as voters for the first time in their life.'
The Ambassador also spoke about developing inter-parliamentary relations and referred to recent visits of British and Uzbek parliamentarians to Tashkent and London respectively. He mentioned that six members of the Legislative Chamber and the Senate of Oliy Majlis, will visit London in mid-November 2013 to attend a conference of British and Uzbek NGOs.
Following this exchange, Mr Bohodyr Ayupov, UNDP Project Manager, presented the educational materials, which used animation and accessible language to explain such issues as the theory of separation of power between three branches of government and the role of each branch in Uzbekistan, the powers, activities and structure of both Chambers of Oliy Majlis, and the role of political parties,.
At the end of the ceremony Ambassador Edgar and Mr Preisner handed over copies of the educational software to the Oliy Majlis representatives for further dissemination.
Published 11 November 2013