A fight for the future of Tripoli'
Minister for the Middle East and North Africa Alistair Burt discussed the overnight events in Tripoli.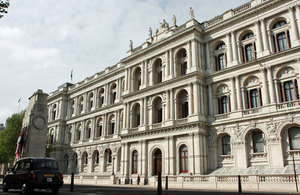 He talked of giving the Libyan people "a chance to choose their own Government":
"We've always been clear that Qadhafi should leave, that he should spare his people further bloodshed and that in doing so it's clear he has no part in the future of Libya and the National Transitional Council can put forward their proposals which they've thought through very carefully over the last few months to see a new constitutional settlement"
Speaking on 21 August about the future of Tripoli he said:
"The pressure on Tripoli has been increased by the successes of opposition forces over the past few days in nearby towns, principally Zawiya, and clearly something very significant is going on but it will take some time. The Chairman of the National Transitional Council, when speaking to the people of Libya yesterday in a public address, said he didn't expect things to be easy or quick. He called for calm and for order and for the regime troops to give up as quickly as possible - that would be helped by further defections - but, plainly, there is now a real fight for the future of Tripoli taking place in front of us."
Asked about the humanitarian situation in Tripoli, he said:
"Well, everything up to date has been done to recognise the humanitarian situation in Tripoli…The National Transitional Council have made it very clear in their statements yesterday that they want order to be preserved; they want to show a distinction between their forces and the Qadhafi forces that turned on their own people. They've called for the setting up of committees in each of the districts of Tripoli in order to make sure that order is preserved and that people's lives are protected."
Speaking about the role of NATO forces, he said:
"There has been no call for British troops from National Transitional Council forces and, indeed, they go out of their way to talk about how this liberation of their country must be Libyan, and everything about the work of the National Transitional Council and those who we now recognise as the legitimate authority in Libya, has been about Libyans doing things for themselves. The only participation of forces from outside has been to protect civilians and to take action against the regime where that has been threatening civilians.
"No one quite knows what will happen over the next few days, and it may be weeks. The Chairman of the Council, Chairman Jalil, in speaking to the Libyan people yesterday, warned that there could be a last stand. No one quite knows what the situation will be. But, the more the pressure increases, the more likely there is that Libyans will talk to Libyans and try and ensure that there will be more defections; more regime troops realising that there is no future for them and hopefully turning aside from their attacks on civilians and, perhaps, joining opposition forces. We would all like to see a quick end but nobody genuinely knows how that will come about."
When asked about negotiations with the Qadhafi regime. He said:
"The United Nations has been charged by the international community to be involved in whatever negotiations are available. I'm not aware of any discussions currently taking place. Efforts have been made in recent weeks for the special envoy, Mr al Khatib to make contact with the Qadhafi regime, but most efforts have been rebuffed because it's been clear that Qadhafi has not had a, a firm grip on reality as we heard from his comments last night and has not been interested personally in leaving or negotiating."
Published 22 August 2011