World news story
A dairy owner's story – sweet success
Pakiza Dairy processing company is one of the leading dairy processing companies in Afghanistan.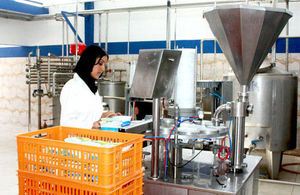 The company began operations in response to the huge demand for dairy products in the local marketplace. With the help of funding from the British and Danish governments through the Comprehensive Agriculture and Rural Development Facility (CARD-F), Pakiza Dairy is now able to process 3,500 litres of milk every day into seven different dairy products (processed milk, yogurt, cream, cheese, butter, dough and chocolate milk).
Pakiza has also now acquired the International Standards Organisation (ISO) certificate, which gives them a competitive advantage over the other local and imported dairy products that are currently available. During the last few decades, Afghanistan has become a market for low quality imported products.
The owner of Pakiza has faced a wide range of challenges along the way such as a lack of farmers' awareness about milk hygiene, competition with imported products, and the lack of skilled labour. However, funding from CARD-F has been used to support the whole dairy process. CARD-F has helped to train farmers, build five milk collection centres in Balkh province, provide a refrigerated truck (on a shared-cost basis) to transport milk from around Balkh Province to Pakiza, to gravel the road connecting the collection centres to Mazar-i-Sharif city and to establish shops to support the sale of Pakiza products across the city.
The CARD-F programme is helping to support rural communities to establish businesses, create jobs and build up the economy in Afghanistan.
Published 7 January 2015