World news story
A British Scientist Cycling for Climate Change – Pole to Paris
The British Embassy welcomed Dr. Daniel Price, a British Scientist and the founder of the 'Pole to Paris' campaign to Bangkok.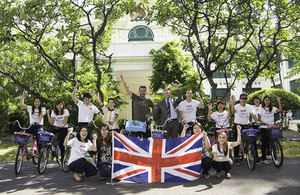 The British Embassy welcomed Dr. Daniel Price, a British Scientist and the founder of the 'Pole to Paris' campaign to Bangkok on a symbolic mission to raise a public awareness of climate change ahead of the international climate negotiations in Paris in December (UNFCCC COP 21). Embassy Staff welcomed Dr. Price to the Embassy before accompanying him on bicycles to Lumphini Park.
Dr. Daniel Price's visit is part of a 17,000-kilometre journey by bicycle from 'Pole to Paris'. He started in Antarctica and is now travelling across three continents before hoping to arrive in Paris in November, where world leaders will be gathering for the climate negotiations Dr Price hopes that his journey will help inspire those leaders to reach an ambitious, binding agreement to address the risk of dangerous climate change by limiting global average temperature rise to no more than 2 degrees above pre-industrial levels.
Dr Price said:
Every generation has a challenge. Our generation is met with the biggest to date. Climate change isn't just an environmental issue, it is an 'everything' issue that will change everything. The most important meeting of modern times will take place in Paris this December when world leaders will decide how we will reduce carbon dioxide emissions, and try to take us off a path that will ensure a global crisis'
The campaign aims to encourage everyone to stand up and have their voices heard ahead of the COP21 meeting.Dr. Price will also attend meetings and seminars in each country he visits, sharing experiences and learning how climate change is affecting different countries in different ways. In Thailand, Dr. Price shared mitigation strategies and renewable energy solutions with academics and experts at the 'Regional Forum on Climate Change' organised by by the Asian Institute of Technology, the French Ministry of Foreign Affairs and International Development, ASEAN and European Union.
Dr. Price emphasised:
the largest of challenges will require the largest of efforts. Everyone is needed on this: individuals, businesses and governments. Everyone can be part of this by ensuring our leaders create ambitious carbon mitigation plans and ensure they are delivered
Each leg of the journey will be documented in a video series, beginning with the impacts of Climate Change at the poles and highlighting the consequences globally. You can watch these videos and follow Dr Price's progress at the campaign website and social media channels – www.poletoparis.com, Twitter @poletoparis and www.facebook.com/poletoparis
Further information
Dr. Daniel Price is a 27-year-old British scientist with great concern about climate change. He recently completed his PhD in New Zealand during which he undertook three fieldwork campaigns to the Antarctic to contribute to the growing scientific understanding of the frozen continent. Although a distant, almost alien world to most people the Antarctic is closer to home than we realize. We are currently setting in motion a chain of events that could be catastrophic to us as a species. After studying climate change and Earth physical sciences for a decade, Daniel and a group of colleagues decided to voice their concerns ahead of COP21 in Paris this December.
Published 6 July 2015