News story
A bright future for Merseyside rail passengers
Improving rail travel for passengers in North West England.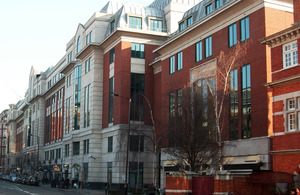 Transport Minister, Theresa Villiers, today (8 November 2010) toured Merseyside's rail and underground network and met local transport leaders to discuss plans to provide improvements for passengers.
The minister inspected improvement works at Lime Street Station and state-of-the-art facilities at Liverpool South Parkway Station, before unveiling public art at James Street Station.
Theresa Villiers said:
The government is committed to improving rail travel for passengers in north-west England - that's why we've given the go ahead for major track improvement works to reduce journey times for passengers between Liverpool, Manchester and Leeds and why we're making funding available for the electrification of the Liverpool to Manchester line.

Improving and upgrading our railways is a key priority. That means it is vital that future investment is targeted in a way that achieves the best value for money for the taxpayer and maximises the benefits to passengers.
It's also why meeting with local transport leaders and viewing the facilities that are available is so important in establishing what local areas need and how central government can help to deliver this.
The minister met with Councillor Mark Dowd, Chair of Merseyside Integrated Transport Authority, other members of the authority and Neil Scales, Chief Executive and Director General, Merseytravel.
Further information
The government recently announced that its preferred option for High Speed Rail north of Birmingham will be for two separate corridors, one direct to Manchester. A high speed line to Manchester would reduce Liverpool to Euston journey times from 2 hours 10 minutes to 1 hour 36 minutes.
Merseyrail achieved a high level of performance this year with a punctuality and performance rating of 93 per cent.
Rail media enquiries
Media enquiries 020 7944 3021
Out of hours media enquiries 020 7944 4292
Switchboard 0300 330 3000
Published 8 November 2010