Press release
A bold new vision for the treatment of victims
Victims' rights will be enshrined in law as part of a major set of reforms announced by Justice Secretary Chris Grayling today.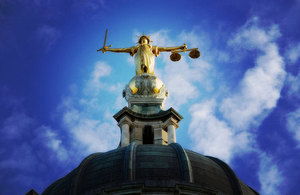 Next year, victims' rights to tell the court how their crime has affected them will be set out in statute; a new nationwide Victims' Information Service will be set up to ensure better information and support; and millions of pounds will be invested in improving the court experience.
Crucially, we will also develop plans to require advocates to undergo specialist training before taking part in sexual abuse or rape trials, which will make going to court easier and less distressing for victims.
Justice Secretary Chris Grayling said:
This government has already significantly improved services and support for victims, investing more than ever in the help they are offered, but we are also the first to acknowledge that more can, and should, be done.

Our criminal justice system can be daunting, and victims, especially the most vulnerable, can find it traumatic and difficult to know where to turn to for advice and support.

For the first time we will create a system that puts the highest emphasis on victims' needs and sets out their rights clearly in legislation. We are also making it easier for them to find whatever it is they need by establishing one simple source of information and help – be it tracking the progress of their case, applying for compensation, knowing what to expect in court, or understanding the range of support available to them.
A new law will guarantee key entitlements for victims, previously set out in the Victims Code. This will include the right to make a personal statement and ask to have it read it aloud in court; automatic referral to support organisations; information about individual cases at each and every stage; and an assessment of victims' needs at the earliest opportunity.
We will also reduce the trauma of going to trial by making sure all publicly-funded advocates have specialist victims training before becoming involved in serious sexual offences cases, and reinforce the Director of Public Prosecution consultation on how to provide better support to victims before and at court to make sure they are fully prepared.
A new Victims' Information Service will be set up, including a helpline to make sure victims are guided to nearby support; and a website where they can find information about services in their area, restorative justice, the criminal justice system, and their rights under the Victims' Code and Witness Charter.
We will work towards making this an online "one-stop-shop" where complaints can be submitted, feedback given about their experiences and cases tracked from the police station to court.
Courts will be modernised to include separate waiting areas, and easier access to information and services to better suit the needs of those affected by crime.
All vulnerable victims and witnesses will also be given greater opportunity to give evidence away from the court building, and we will work towards rolling out pre-trial cross examination for child victims nationally, subject to the evaluation of ongoing pilots.
There will be less time to wait for compensation as we consult on and develop plans to pay victims the money they are owed up front, which will prevent some waiting for years or until the offender is able to pay.
Transparency and accountability will also improve, with criminal justice agencies held to account and required to publish information on how they have improved services.
We will work closely with Police and Crime Commissioners as they tailor support to meet local demand, and we will review whether the Ombudsman and other independent organisations need new powers to make sure there is redress where required.
In addition, all courts and staff who work with victims will have as an explicit part of their job the need to focus on the service they provide to those affected by crime.
Victims Minister Mike Penning said:
It is crucial that the needs of people who have experienced or reported crimes are put first. Victims deserve the best possible support to help them cope with what they have been through.

Recovering after a crime can be difficult, but these reforms show our commitment to making victims a priority.

I am pleased they will be given better information and support, more choice in how to give evidence and a stronger voice throughout the criminal justice system.
Notes to editors
The government's Commitment to victims will include:
Establishing a new nationwide Victims' Information Service by March 2015, and developing this into a comprehensive service that allows victims to access the information and support they need.
Strengthening the protection for vulnerable victims by making the experience of going to court a better one.
Increasing transparency and accountability, to ensure criminal justice agencies are held to account for the services they provide to victims.
Introducing a Victims' Law to guarantee key entitlements for victims.
Developing plans for paying compensation to victims up front.
For more information contact Ministry of Justice press officer Rebecca Gough on 020 3334 3506 or email rebecca.gough@justice.gsi.gov.uk. For out of hours (evenings and weekends) assistance call 07659 173270.
Published 14 September 2014