Press release
A bill for decarbonisation – unlocking investment and jobs and fairer bills
The Energy Bill, is due to receive its Third Reading in the House of Commons tomorrow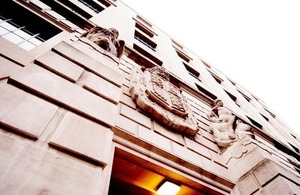 Press notice: 13/056
Energy Bill to decarbonise the economy, with powers to set a 2030 target range for the power sector
£110 billion of private sector investment will be unlocked by 2020
250,000 energy sector jobs will be supported around the UK
Consumers will benefit from fairer tariffs and improved rights
Decarbonisation
The Energy Bill, which is due to receive its Third Reading in the House of Commons tomorrow, enables a massive decarbonisation of the power sector by 2030, with the emissions intensity of the power sector rapidly reduced, and a new generation of clean power plants to be built, ensuring the UK can cut its greenhouse gas emissions by 50% by 2025.
All the elements of the Bill which include the introduction of a Capacity Market, long-term Contracts for Difference, and an Emissions Performance Standard to prevent use of unabated coal, have been designed to keep the lights on, reduce emissions and unlock private sector investment in a low-carbon energy mix of renewables, new nuclear, CCS and gas.
As a result, the UK will be firmly on track to meet its legislated Carbon Budgets and the 2050 target to reduce emissions of all greenhouse gases by 80%. Following feedback from the Energy and Climate Change Select Committee, the Government has amended the Bill, adding a clause that will enable a 2030 decarbonisation target for the power sector in 2016, once advice has been provided by the Committee on Climate Change on the level of the 5th Carbon Budget (which covers 2030, and will be provided in 2016).
Secretary of State, Edward Davey said:
"Everything in this Bill is based on the premise that we need to significantly decarbonise our power sector in order to meet climate targets.
"We secured a landmark agreement across the Coalition to treble support for low-carbon investment to £7.6 billion in 2020, and we are reforming the market to provide the certainty required to attract investment in renewables, new nuclear, CCS and demand reduction.
"We have listened to views and added a clause to enable us to set a decarbonisation target for the power sector in 2016. No political party had this issue in their manifesto, and this will be a world first, an issue that this Coalition Government has addressed head on."
Investment and jobs
By 2020, the Energy Bill will have incentivised £110 billion of private sector investment in to building new cleaner energy infrastructure, including renewables, new nuclear, CCS and gas-fired power stations, which emit half the carbon emissions of coal.
Business and Energy Minister, Michael Fallon said:
"This Bill will bring unprecedented levels of inward investment into our energy infrastructure, on a scale that will dwarf the Olympics and indeed everything else in the infrastructure pipeline from transport, water and telecoms.
"Already since 2010, we have secured £29 billion of the £110 billion investment we need, supporting 30,000 skilled jobs in the renewables sector. We estimate that in total there could be 250,000 jobs in the energy sector as a result of the Energy Bill.
"We know that investors want certainty from Government and this will be the year that they get the certainty they need.
"By the summer, we will publish draft strike prices for our electricity market reforms, plus more details about how the Capacity Market will work and when it will run.
"Already we have attracted considerable inward investment and after decades of under-investment, we can look forward to a new era of energy generation".
Fairer bills for consumers
The Energy Bill will also create a fairer market, ensuring that companies are more transparent about prices and that consumer's get a fair deal on their bills.
Millions of consumers on poor value dead tariffs will be moved on to the cheapest standard variable tariff for them by this summer – delivering on the Prime Minister's pledge.
The complex array of tariffs currently offered by suppliers will be reduced to 4 core tariffs, with clearer information and advice displayed on bills, and via smart phones to make it easier for customers to compare prices and switch.
The Government will aim to turn the 84% of 'non-switchers' into 'savvy-switchers' by funding a new £900,000 Big Energy Saving Network to coordinate and provide advice. Switching could save households as much as £158 per year.
Ofgem's powers have been strengthened and Government has amended the Bill so that if companies are found to have mis-sold energy to consumers, they will have to provide financial compensation direct to customers as well as paying fines to the regulator.
Minister of State Gregory Barker said:
"This Coalition is determined to do everything we can in the Energy Bill to help hardworking families with the rising cost of living.
"That means going further than any government before in simplifying energy tariffs and reducing the impact of rising energy bills.
"Already, as a result of our policies, people are paying 5% less on their gas and electricity bills than they otherwise would be, and by 2020 bills will be 11% or £166 lower than if we took no action to decarbonise the economy.
"Through a landmark amendment to the Energy Bill, our new proposals on reducing electricity demand will usher in a radical new market where energy efficiency projects, for the first time, can compete against building new power stations.
"Consumers can be reassured that while we have a massive infrastructure programme ahead of us, we won't be building new energy plants unnecessarily where cheaper alternatives are available.
"This puts hard-pressed consumers concerned about bills and those worried by climate change on the same page. As a policy, it's a double win".
Published 3 June 2013