News story
£950 million investment to boost local economies and jobs
The second round of the Government's Regional Growth Fund will help create and safeguard more than 200,000 jobs across England.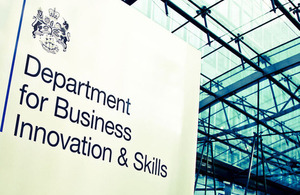 On 31 October Deputy Prime Minister Nick Clegg announced the successful bids for the second round of the Government's £1.4 billion Regional Growth Fund (RGF).
It will support 119 bids from businesses and local partnerships with projects to expand their operations, create new jobs and attract private investment. Discussions are ongoing with a further 10 bidders about their projects.
Of the 201,000 jobs created or protected, around 37,000 will be directly created jobs, and more than 164,000 will be in the supply chain. The Government investment will support nearly £6 billion of private investment secured by the successful projects.
Deputy Prime Minister Nick Clegg said:
"I am delighted to be able to announce this boost to business, which will jump start growth and create jobs that last in the places that really need it.
"This targeted support for businesses across the country allows them to expand and create jobs. It unlocks private sector investment - with at least £5 put in for every £1 of public money. People in the rest of Britain have been let down for far too long by governments in thrall to one Square Mile of it.
"The first pot of Regional Growth Fund money is already making a difference across the country - helping to rebalance our economy so that every region and sector benefits."
The successful bids
The successful bids are subject to legal checks before they can be awarded their final allocation of funding. This will establish whether the Government is confident that the organisations can deliver on the proposals in the bid and be agreed through contract. The Government expects the money to start being passed on to the bidders in the spring.
Some of the successful bids include:
Research and development project to investigate the introduction of a new engine into the Bentley model range with a focus on the Chinese market.
Project to stimulate investment, employment and economic growth in Bradford city centre by incentivising investment in, and speeding up delivery of, Westfield Bradford and the Central Business District, complemented by wider public investment in city centre business rate relief.
Development of new kilns and firing methods using innovative sintering processes at Ceram Research Ltd, which can be scaled up for industrial use in ceramics industry.
Business Secretary Vince Cable said:
"We need to be doing all we can to enable businesses and organisations to create much needed jobs and inject private investment into the economy.
"We have announced today that a further 119 projects will benefit from the fund, and expect to deliver a huge number of jobs across their businesses and in the supply chain.
"This is a very significant boost to local communities, and the Regional Growth Fund will help businesses to drive local growth."
Links
Published 31 October 2011