9,000 parish councils to be freed from archaic payment rules
9,000 Parish Councils will be freed from old fashioned rules which force them to use out-dated payment methods such as cheques, so that they…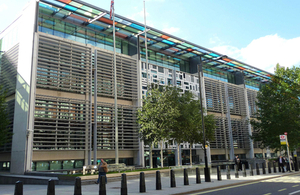 9,000 Parish Councils will be freed from old fashioned rules which force them to use out-dated payment methods such as cheques, so that they can make faster and easier payments, helping the small businesses they employ.
This comes as part of the Coalition Government's drive to cut unnecessary red tape, improve efficiency and give power back to local people and councils, and has also been raised as an issue by people responding to the Government's Spending Challenge.
Under the changes announced by Local Government Minister Grant Shapps today, Parish Councils, who represent around 19 million people across the country, will be given the freedom to abolish outdated methods of payment and adopt modern banking methods such as electronic transfers.
Parish councils spend over £340m each year, but they are bound by 1894 laws which have restricted them to using outdated ways of spending their money. This old fashioned legislation means that even the smallest of payments made by Parish Councils must be signed by two members of the council, stopping them from making quick electronic payments and leading to a time-consuming process.
The new changes which are planned to come into force in 2011 will mean that Parish Councils will be given the freedom to make use of modern banking methods such as electronic banking, which will save them valuable time and enable them to carry out their business in a quicker and easier way. But it is also an important move as cheques are set to be abolished completely in just eight years time.
The changes are also set to benefit many private companies who parish councils employ to carry out work and they should now get paid faster, something which is crucial for the survival of small businesses.
However, important safeguards will also be put in place to make sure that all the payments made by Parish Councils are legitimate and that there is no misuse of the system. These checks and controls will be designed by the National Association of Local Councils and the Society of Local Council Clerks.
Local Government Minister Grant Shapps said:
Parish Councils have been around for over a hundred years, but it doesn't mean they should be bound by outdated rules which make it harder for them to serve their local community.

It's time to bring Parish Councils into the 21st Century so they can get on and do their jobs in a faster and simpler way.

This is about removing the barriers so that local people can deliver the services that their communities care about, but it could also help hard pressed contractors who rely on quick payments to survive.
According to the Payments Council which monitors the way payments are made, there has been a dramatic decline in the number of cheques being used with cheque usage dropping by £21.5bn over the last year alone. This is because businesses and consumers have moved to faster and more convenient electronic and card payments.
The move has also been supported by the National Association of Local Councils, whose Chairman Councillor Michael Chater said:
I am delighted that the Government is making it easier for local councils to get on and do their job through modernising the rules on the way they can make payments.

This much needed reform is very welcome and underlines the important role local councils play in their communities supporting local people and local businesses.

This initiative will give a much welcome boost to local councils to help them operate more efficiently and effectively and enable them to continue to play their role at the heart of localism and Big Society.
Notes to editors
The changes are expected to come into place in 2011 subsequent to consultation and the legislative process.
2. The Payments Council produce statistics on the method of payments and the latest quarter data can be found at: [www.paymentscouncil.org.uk/files/payments_council/q22010_statistical_report(final)-_9_sept_2010.pdf](http://www.paymentscouncil.org.uk/files/payments_council/q2_2010_statistical_report%28final%29_-_9_sept_2010.pdf) (external link).
The National Association of Local Councils (NALC) is the nationally recognised membership body representing the interests of around 9,000 local councils and their 80,000 local councillors in England. Local councils serve electorates ranging from small rural communities to major cities, all are independently elected and raise a precept from the local community. Together, they can be identified as among the nation's most influential grouping of grassroots opinion-formers. Over 19 million people live in communities served by local councils, around 35 per cent of the population, whilst over 200 new local councils have been created in the last 10 years.

Local councils work towards improving community well-being and providing better services at a local level. Their work falls into three main categories:
representing the local community;
delivering services to meet local needs;
striving to improve quality of life and community wellbeing.
Through a range of powers local councils provide and maintain a variety of important and visible local services including allotments, bridleways, burial grounds, bus shelters, car parks, commons, community transport schemes, crime reduction measures, footpaths, leisure facilities, local youth projects, open spaces, public lavatories, planning, street cleaning, street lighting, tourism activities, traffic calming measures, village greens and litter bins.
Twitter
Keep up to date with the Department by following us on Twitter (external link).
Media enquiries
Visit our newsroom contacts page for media enquiry contact details.
Published 9 October 2010