Press release
85,000 troubled families have had their lives turned around
The government's Troubled Families programme has now helped turn around the lives of over 85,000 of the hardest to help households.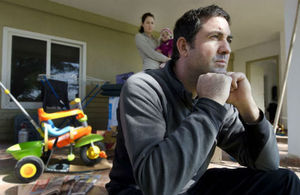 The government's Troubled Families programme has now helped turn around the lives of over 85,000 of the hardest to help households, Communities Secretary Eric Pickles announced today (22 December 2014).
With over 99% of families the Prime Minister pledged to support now being actively worked with, councils have had payments-by-results made for over two-thirds of their families.
This means that in 85,303 troubled families in England:
children have been back in school for a year when they were previously truant or excluded
youth crime and anti-social behaviour has been significantly cut across the whole family
or an adult in the home has moved off benefits and into work for 3 months or more
Bristol has turned around all 1,355 of its troubled families and Nottingham has done the same with 1,200 of its. Liverpool has helped 1,987 of the 2,105 it promised to get back on track.
The success of the programme means that a second wave of councils are now beginning work with more families ahead of schedule, and up to 40,000 additional families can begin to be helped by dedicated workers in this financial year in the highest-performing areas.
Communities Secretary Eric Pickles said:
The Troubled Families programme demonstrates exactly what our long-term economic plan means for people.

New opportunities for families to turn their lives around and make something of themselves; more economic security for local communities blighted by worklessness; and more economic stability for taxpayers, as we reduce the bills for social failure and get this country living within its means.

It's a triple-win; an amazing programme; and we're going to extend its reach as far as possible.
Chief Secretary to the Treasury Danny Alexander said:
I helped establish the Troubled Families programme because improving the lives of society's most vulnerable is one of the best ways to achieve our aim of a stronger economy and fairer society.

I am proud that this programme is delivering real results, having helped turn around the lives of families by putting children back into school, cutting anti-social behaviour, and moving adults into work.

It's great news that more than 85,000 troubled families in England have seen real, tangible improvements in their lives thanks to this programme, and that 99% of eligible families are now being actively worked with.
Head of the Troubled Families programme Louise Casey CB said:
To have turned around the lives of over 85,000 troubled families – who have an average of 9 serious problems each – in 2 and a half years is a credit to the councils, the frontline staff and most of all to the families themselves.

This programme works because it is joined up and it seeks to simplify things rather than make them more complicated. It focuses on whatever it takes to do what really matters: getting kids into school, the toughest families out of trouble with the police and adults into a position where they can find a job.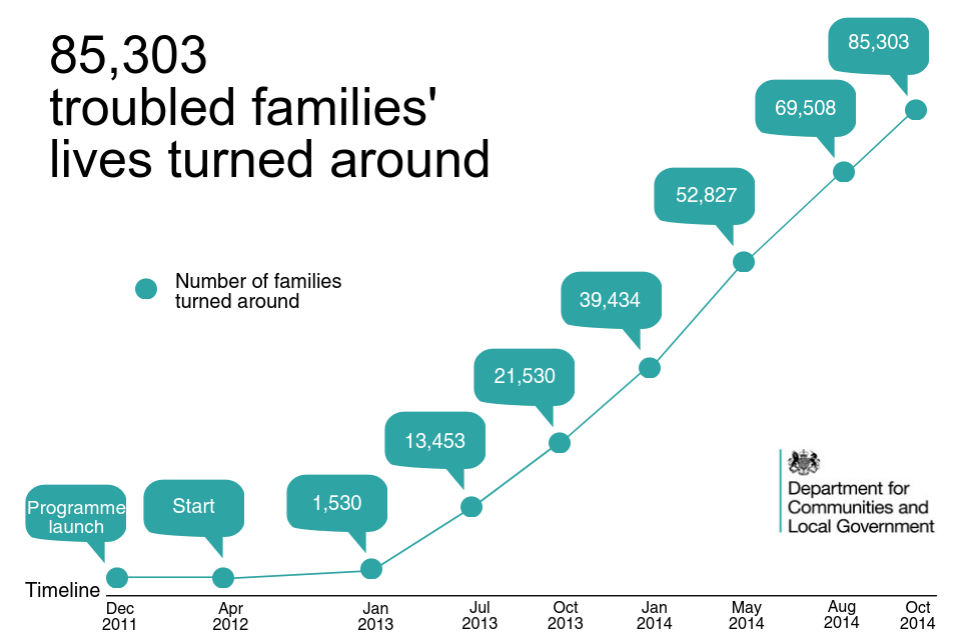 Further information
The Troubled Families programme applies to England only. Local authorities are paid up to £4,000 on a payment-by-results basis for turning around troubled families. The government's £448 million 3-year budget for 2012 to 2015 is drawn from 6 Whitehall departments who all stand to benefit from the public sector working more effectively with troubled families.
Troubled families are defined as those who:
are involved in youth crime or anti-social behaviour
have children who are excluded from school or regularly truanting
have an adult on out-of-work benefits
cost the public sector large sums in responding to their problems, an estimated average of £75,000 per year without intervention
Turning around troubled families means:
getting children back into school
cutting youth crime and anti-social behaviour across the whole family
getting adults into work
reducing the costs to the taxpayer of tackling their problems
See full details of the government's payment by results framework for troubled families.
The figures from local authorities on progress within the government's Troubled Families programme have been collated from the latest quarterly returns submitted to the Department for Communities and Local Government's Troubled Families team from all 152 upper tier local authorities in England in August 2014. These do not constitute official statistics.
The Understanding Troubled Families report showed that families within the programme have an average of 9 different serious problems including health and mental health, domestic violence and debt.
At the Spending Review last year it was announced that the Troubled Families programme would be expanded to work with up to 400,000 more families. This publication explains how that figure was calculated.
The Budget in March 2014 announced that work with up to 40,000 of these families would begin this year in local authorities that are performing well in the current Troubled Families programme. The second wave of these early starters in the expanded programme will be:
Barnsley
Bedford
Blackburn with Darwen
Bracknell Forest
Brighton and Hove
Buckinghamshire
Cambridgeshire
Chester West and Chester
Coventry
Darlington
Derby
Dorset
East Riding of Yorkshire
East Sussex
Essex
Gloucestershire
Halton
Hampshire
Herefordshire
Kent
Kingston upon Hull
Kirklees
Leicester City
Lincolnshire
London Borough of Bexley
London Borough of Brent
London Borough of Croydon
London Borough of Enfield
London Borough of Hammersmith and Fulham
London Borough of Hounslow
London Borough of Islington
London Borough of Lewisham
London Borough of Waltham Forest
Luton
North East Lincolnshire
North Lincolnshire
North Tyneside
Northamptonshire
Northumberland
Nottingham City
Nottinghamshire
Peterborough
Portsmouth
Royal Borough of Windsor and Maidenhead
Sandwell
Sefton
Shropshire
Solihull
Somerset
Southend
St Helens
Staffordshire
Stockton-on-Tees
Suffolk
Sunderland
Swindon
Telford and Wrekin
Walsall
Wiltshire
Wirral
Worcestershire
York
Office address and general enquiries
2 Marsham Street
London
SW1P 4DF
Contact form http://forms.communiti...
General enquiries: please use this number if you are a member of the public 030 3444 0000
Published 22 December 2014