World news story
800th anniversary of the signing of Magna Carta
The British Embassy organised open lecture on its background and relevance to Albania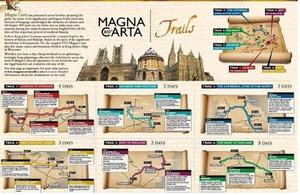 On 4 June 2015, the British Embassy with the collaboration of Slynn Foundation held an open lecture on the occasion of the 800th anniversary of the signing of Magna Carta. The open lecture was organised at the Law Faculty, University of Tirana with the Dean delivering the opening remarks. The panel which featured Sir David Latham of the Slynn Foundation as keynote speaker provided valuable insights on the historical background and significance of Magna Carta to the international law. Sir David Latham said that Magna Carta has served as an inspiration for many important documents from the US Declaration of Independence to the UN Charter of Universal Rights. Considering Magna Carta's role in building rule of law, HM Ambassador Mr. Nicholas Cannon said:
Almost by accident, these medieval barons had created the concept of rule of law and the beginnings of parliamentary democracy. Over the last eight hundred years, these principles have evolved into the structures and concepts now current across the Western world. Magna Carta has been described as Britain's greatest gift to the world.
Later, the participants attended a reception hosted by Mr and Mrs. Cannon at the British Embassy residence in Tirana. Referring to Magna Carta's relevance to Albania, Mr. Cannon said that its principles and inspiration remain relevant to Albania, as to the rest of the democratic world, as the country continues on its path of democratic and judicial reform.
Published 5 June 2015
Last updated 5 June 2015
+ show all updates
Added translation
Added translation