Press release
£80 million to tackle more pinch points on local roads
Announcing a further £80 million to remove bottlenecks.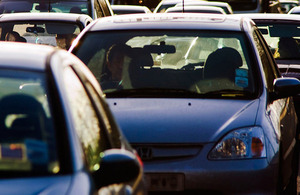 Communities up and down the country are set to benefit from government funding which will tackle pinch points that clog up traffic flow on local roads.
Transport Secretary Patrick McLoughlin has announced £80 million of further funding to remove these bottlenecks, building on the £190 million already allocated earlier this year to similar local congestion-busting schemes throughout England.
Of that £80 million, £25 million in government funding has been awarded to 15 schemes to help tackle bottlenecks on the local road network.
The Secretary of State also announced he was inviting local councils to submit bids by the end of October for a share of the remaining £55 million being made available.
Many of the improvements are expected to be delivered in 2014 and 2015. Today's (27 September 2013) announcement brings the total number of schemes to receive investment from the government's Local Pinch Point Fund to 87. Since March this year the government has provided over £215 million to local authorities, which has enabled local transport improvements of over £340 million to go ahead.
The fund reflects the government's commitment to supporting economic growth by tackling barriers on the local highway network that may be restricting the movement of goods and people. The fund is aimed at those schemes that can be delivered quickly with immediate impact.
Transport Secretary Patrick McLoughlin, said:
Keeping traffic moving is vital to securing prosperity. By removing local bottlenecks and improving access to local development sites and communities, these schemes will help get people to and from work and power the economy. They also have the potential to help deliver new jobs and homes.

The Local Pinch Point Fund is already making a difference on the ground. I am pleased that I can today announce a further 15 successful schemes which will receive £25 million of funding from my department. These schemes will help alleviate key local bottlenecks around the country, making life easier for the thousands of motorists and businesses who use the local road network every day.

I am also today inviting local authorities to submit bids for local pinch point schemes to the department for a share of a further £55 million being made available from the fund.
Details of the 15 schemes announced today can be found on GOV.UK.
Today's (27 September 2013) announcement also invited local councils to submit bids to help address congestion on the local road network in England, which are acting as an impediment to economic growth.
The areas benefitting from a share of the £25 million allocated today are:
Reading
Barnsley
Devon (two schemes)
Telford
Blackburn with Darwen
Hampshire
Torbay
Hammersmith and Fulham
York
South Gloucestershire
Wigan
Lincolnshire
Stockton
Staffordshire
The fund is available to local highway and transport authorities in England, including Transport for London. Bids will need to be received in the department by 31 October 2013. Bids can either be new schemes or for authorities to resubmit their previous bids to the department following feedback.
The department will shortly be issuing a further guidance note in respect of the application process for the £55 million.
News desk enquiries
Press enquiries 020 7944 3021
Out of hours 020 7944 4292
Switchboard 0300 330 3000
Published 27 September 2013