Press release
74,000 young people helped by Work Programme
More than 74,000 young jobseekers have escaped long-term unemployment and found lasting work.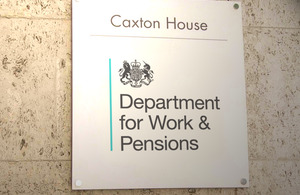 More than 74,000 young jobseekers have escaped long-term unemployment and found lasting work – normally at least six months – through the Work Programme, an increase of over 14,000 in the last three months.
As part of the government's long-term economic plan to get young people off benefits and into work, 18-24 year olds are referred onto the Work Programme earlier than other jobseekers to ensure they get the help they need to stop them from becoming long-term unemployed.
New analysis today (24 December 2013) shows Work Programme performance has improved since being launched in June 2011. Up until the end of September 2012, 17,560 young people had found lasting work. This has more than quadrupled to 74,210 young people by September 2013.
Unlike the short-term focus of previous schemes, the Work Programme is about keeping people in work. 66,740 of the young people who found sustained employment have stayed in work for, on average, another six months.
Employment Minister Esther McVey said:
Getting young people into work is one of my top priorities, so it's really encouraging that over 74,000 18-24 year-olds got sustained jobs through the Work Programme.
Young people in particular may lack the confidence and experience they need to find a job, so the tailored help that the Work Programme delivers is vital to help them get their foot on the career ladder.
Figures published by the Office for National Statistics this month showed that youth unemployment fell 19,000 over the last three months and that there are 106,000 fewer young people claiming Jobseeker's Allowance than there were in 2010 – a number that has been falling for the last 18 months.
Case study
Hartlepool – Work Programme gives man confidence to land first job
Jonathan Hilditch, 22, from Hartlepool knows first-hand how determined you have to be to find a job, but with low confidence, everyday was a struggle.
With the support he received through the Work Programme he was able to find meaningful work and now has a job that he could only dream about in the past.
Jonathan was going through some personal setbacks when he was referred to the Work Programme. He worked closely with his Job Coach at Avanta on job searching skills and interview techniques, to help restore his self-belief.
Within three weeks, the tailored programme he received – which included confidence building, help with writing an effective CV and interview techniques - paid off when he secured a part-time position at a restaurant.
Jonathan said:
I am more confident and this contributed to me getting a job. This has given me back my self-respect. I feel valued and can pay my own way in life. Thanks to Avanta I feel I now have a reason to get up in the morning.
A few months into his new role Jonathan is not looking back, his employer is pleased with his progress and plans to offer him a full time position in the future.
More information
Work Programme official statistics are published here: https://www.gov.uk/government/organisations/department-for-work-pensions/series/work-programme-statistics–2
Contact Press Office
Press Office
Caxton House
Tothill Street
London
SW1H 9NA
London Press Office (national media and London area enquiries only – not questions about personal claims) 020 3267 5144
Out-of-hours (journalists only) 076 59 108 883
England and Wales (local media enquiries) 029 20 586 then 097 or 098 or 099
Scotland (local media enquiries) 0131 310 1122
Follow DWP on:
Published 24 December 2013