70th anniversary of Airborne Forces
The 70th anniversary of the formation of the Airborne Forces was marked with a celebratory dinner held in London last week.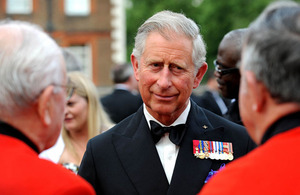 The traditional formation date of the Airborne Forces is recognised as 22 June 1940 when Sir Winston Churchill signed a memorandum calling for an 'elite corps of troops' to form a force of 5,000 paratroopers.
Following the request a parachute training school was established at Manchester's Ringway Airport.
The regiment quickly grew into the 11th Special Air Service Battalion and ultimately, on 1 August 1942, The Parachute Regiment. By the end of the Second World War, the regiment comprised 17 battalions.
It survives today in 16 Air Assault Brigade, a mix of paratroopers, aviation, air, and air assault forces.
The brigade also includes three helicopter regiments and has particularly close ties to the Royal Air Force.
To mark the 70th anniversary, VIPs including His Royal Highness The Prince of Wales, Baroness Margaret Thatcher, and the Chief of the Defence Staff, Air Chief Marshal Sir Jock Stirrup, gathered with serving members of 16 Air Assault Brigade and former members of the Airborne Forces at the Royal Hospital Chelsea.
The celebrations, which took place on Thursday 24 June 2010, featured a performance by a military band, the firing of a cannon and a flypast by two military helicopters.
In a foreword to a commemorative booklet marking the anniversary, the Prince of Wales, in his role as Colonel-in-Chief of The Parachute Regiment, wrote:
From their earliest days, Airborne Forces have prized selfless courage, initiative and resolve above other virtues and these, together with the rigours of a demanding selection, have been instrumental in moulding a formidable fighting force with an unmatched reputation for excellence and tenacity.
The 'fundamental spirit and fighting ethos' of Airborne Forces remains unaltered," he said.
70 years on, Airborne Forces remain inspirational and relevant, a beacon of excellence and a benchmark for attainment…
I salute all those who have served with Airborne Forces, all they have achieved over the decades, and I wish them a long and prosperous future.
Celebrations will continue on 24 July 2010 when 16 Air Assault Brigade will present an open day for families and friends at Merville Barracks, Colchester.
Commanded by Brigadier James Chiswell, 16 Air Assault Brigade are currently conducting pre-deployment training to deploy to Afghanistan on Op HERRICK 13 in autumn this year.
Published 28 June 2010