News story
6th Annual Report of Independent Reviewer of Justice & Security launched
Secretary of State today launched the 6th Annual Report of the Independent Review of Justice & Security (NI) Act 2007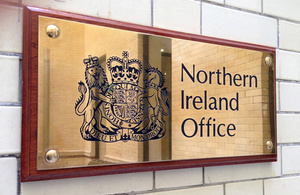 This report reviews the operation of powers under the Justice and Security (Northern Ireland) Act 2007.
The Secretary of State said:
I have arranged for copies of the Sixth Report of Robert Whalley CB, Independent Reviewer of the Justice and Security (Northern Ireland) Act 2007 to be laid in both Houses today.
The Chief Constable and the Brigade Commander 38 (Irish) Brigade have both welcomed the Independent Reviewer's report.
I would like to thank Robert Whalley for his work in the role since the introduction of the powers in 2007. In particular I am grateful for his continuous commitment to assessing and reviewing the use of the powers in all of his reports and I commend his detailed assessment of the new authorisation procedures for the stop and search powers in Northern Ireland.
This Sixth Report provides an assessment of the operation of sections 21 to 32 of the 2007 Act and the procedures adopted by the Brigade Commander 38 (Irish) Brigade for receiving, investigating and responding to complaints. The report covers the period 1 August 2012 to 31 July 2013 and is published pursuant to Section 40 of the 2007 Act.
The report highlights the continuing security threat posed by terrorists in Northern Ireland. The Reviewer comments on the importance of the powers in the 2007 Act in dealing with a wide range of security related threats and recommends that the powers should continue unchanged for a further year.
The Reviewer's assessment of the new authorisation regime introduced in July 2012 and put in place by the PSNI and the department is that it fully meets the requirements set out in the Protection of Freedoms Act 2012 and in the draft Code of Practice under the 2007 Act. The Reviewer also notes that the number of times the JSA stop and search powers have been used during the reporting period is down 29% compared to the last reporting period.
Published 16 December 2013