News story
£6m rail innovation competition open for bids
A government-sponsored competition to encourage innovation in the rail industry opens today.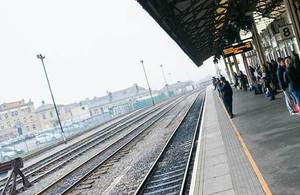 Rail Minister Claire Perry today (17 March 2015) launched an industry-wide competition to spur innovation among train operators to meet the challenges of growing demand for rail travel and drive up standards.
The Train Operator Competition (TOC'15) is funded with £6 million from the Department for Transport and organised by FutureRailway, an expert body set up by the rail industry to accelerate research, development and innovation.
It is inviting proposals which train operators and their supply chains will fund, along with government financial support. These will be aimed at finding solutions that will address current and future challenges identified by the railway industry: enhancing customer experience, expanding capacity, reducing costs, and reducing carbon.
Rail Minister Claire Perry said:
Innovation is vital to the rail industry as passenger numbers and customer expectations continue to rise. Harnessing the latest technology and being creative in customer service hold the key to staying competitive.

That's why along with investing record amounts in rail infrastructure as part of our long term economic plan, we are providing £6 million this year to encourage train operators to collaborate with each other and their supply chains to come up with projects that will transform the industry and make it ready for future challenges.
The competition is now officially open for applications. To receive an application pack please contact TOC15@futurerailway.org and the full invitation to tender will be issued.
Rail media enquiries
Media enquiries 020 7944 3021
Out of hours media enquiries 020 7944 4292
Switchboard 0300 330 3000
Published 17 March 2015