6 National Treasures Saved For The Nation Last Year
National Treasures that were due for export now safely on display in UK public collections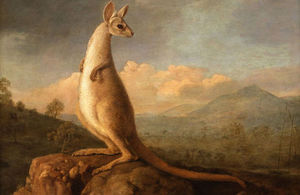 A report published today reveals that six national treasures, worth almost £11.2 million in total, were successfully prevented from being exported last year and have now found new homes in musuems and galleries across the UK. The items that were acquired by British institutions after Culture Minister Ed Vaizey imposed temporary export bars on them include:
'The Kongouro from New Holland' and 'Portrait of a Large Dog' by George Stubbs, were acquired by The National Maritime Museum for £5.5 million
A painting by Pietro Lorenzetti, 'Christ between Saints Paul and Peter', was bought for £1.6m by Hull City Council's Ferens Art Gallery
A spectacular Regence ormolu-mounted Chinese porcelain casket, thought to be the only one of its kind, was bought by The Bowes Museum in County Durham for £193,250
Cultural objects of more than 50 years of age, and above a certain price, require a licence for export out of the UK. If the item is deemed to be of national importance under specified criteria the Secretary of State can then place a temporary export bar on the item, which gives museums, galleries, libraries and private individuals in the UK time to raise funds to purchase them.
Culture Minister Ed Vaizey said:
I congratulate all those involved in the fundraising efforts to keep these six national treasures here in the UK. The export licensing system is an incredibly valuable tool in preventing items like these from disappearing abroad and ensuring they will be enjoyed for generations to come.
Further Information
Published 27 February 2014