Press release
6 arrests in nationwide waste dumping raids
6 people were arrested during dawn raids today following a nationwide Environment Agency probe into illegal dumping of waste.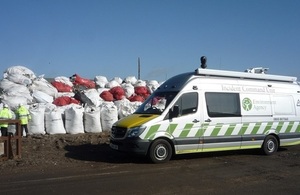 6 people were arrested during dawn raids today (Tuesday 10th March) - 4 for suspected waste offences and 2 for suspected human trafficking. This follows a nationwide Environment Agency probe into the illegal dumping of potentially hazardous waste at illegal waste sites in Bristol, Scunthorpe and Newark in Nottinghamshire. The investigation is also looking at links to an abandoned waste transfer site in Orpington run by operators Waste4Fuel.
More than 40 Environment Agency investigators, supported by Humberside, Nottinghamshire, Cambridgeshire and Hertfordshire Police, swooped on suspects home addresses and the sites as part of Operation Encore.
Environment Agency crime staff from across England, including a number in specialist breathing apparatus, have been brought in to support the operation due to its large scale.
The police were deployed to support with arrests, access properties and assist with collecting evidence. The Home Office Immigration Enforcement and Social Services were also involved as part of this multi-agency operation, due to a suspected number of illegal workers at the sites.
The 6 people arrested have all been released on conditional bail pending further enquiries.
The investigation is ongoing and expected to take many more months to complete.
Andy Higham, Head of the Environment Agency's National Investigation Team, said:
The Environment Agency will relentlessly target organised criminals who risk damaging health, livelihoods and the environment by trading in illegal and hazardous waste for criminal gain.

Following a covert Environment Agency investigation we have worked with the police to arrest these suspects and secure evidence. Our enquiries will continue to probe the full extent of suspected offending.

We take waste crime extremely seriously. This is a live and complex investigation, anyone with further information should contact Crimestoppers on 0800 555 111.
Resource Management Minister Dan Rogerson said:
Waste crime causes problems for local communities, undermines legitimate businesses and costs taxpayers. While it is not appropriate to comment on these arrests, we support the Environment Agency in taking a robust approach to tackle crime.
Published 10 March 2015