World news story
5th Kazakhstan UK Supply Chain Forum takes place in Atyrau
Supply chain forum helps UK companies develop partnerships with Kazakh companies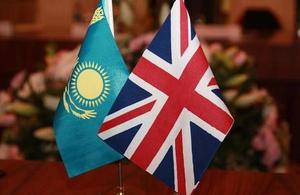 A delegation of 28 UK companies including engineering, manufacturing, and commodity suppliers met with over 40 Kazakhstan companies in Atyrau on 12 December 2013. This was part of an ongoing programme to facilitate partnerships that will develop new business opportunities and contribute to the sustainable development of local content in Kazakhstan.
The forum is a continuation of a unique programme sponsored by Shell Kazakhstan and UK Trade & Investment (UKTI), delivered in cooperation with the National Agency for Local Content Development (NADLOC)
Since 2011 the programme has made steady progress delivering 18 new partnerships with a further 25 partnerships in the process of being formed.
5th Kazakhstan UK Supply Chain Forum
The forum was co-chaired by Kairat Bekturgenev, Chairman of NADLoC and Greg Quinn Chargé d'Affaires, British Embassy.
Kairat Bekturgenev reinforced the commitment of NADLoC to provide practical expert advisory support to locate appropriate Kazakhstan companies to partner with UK companies. He highlighted the need of Kazakhstan in purchase of imported products as well as objectives to set up joint ventures in order to establish import substitution production.
Kairat Bekturgenev said:
It is a good opportunity for British companies to develop partnerships in Kazakhstan in import substitution production of goods which are currently imported by subsoil users in large scale from overseas. Joint British-Kazakh production in oil and gas and mining will be of no doubt in great demand due to growing scales of resources production in Kazakhstan and the need in relevant products. We are interested in establishment of competitive production with full manufacture and supply chain process.
Gregg Quinn emphasised the importance of Kazakhstan as a trading partner for the UK and the continuing efforts to deepen the relationship between the countries, following Prime Minister Cameron's visit earlier this year.
Odelia Marvan of Shell's Global Local Content adviser stressed that local content is a 'marathon not a sprint' and whilst there a strong pipeline of both UK and Kazakhstan companies that have registered their interest participating and benefiting from the programme, there is a need to continue our joint efforts to help companies to understand the business environment
The forum provided the opportunity for face to face discussions with representatives from the operating companies NCPOC and TCO who provided guidance and advice on their prequalification and tendering processes. Wood Group and Worley Parson also shared their experience and provided practical information on how engage in the market emphasising the importance of local content to successful business implementation.
2014 programme
The programme will continue in 2014 with the greater emphasis on providing support to SMEs in Kazakhstan and the UK.
If you would like to find out more about the forum or to know how we can develop your business overseas, please contact UKTI Kazakhstan: ukinkz@fco.gov.uk Tel.:+77122 271 748
Published 18 December 2013
Last updated 19 December 2013
+ show all updates
add the picture
Added translation