50th anniversary of Army-led Ten Tors Challenge
His Royal Highness The Duke of Edinburgh visits Okehampton Camp to mark the 50th anniversary of Ten Tors.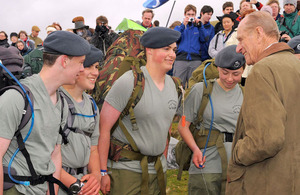 The Army-run event is one of the biggest adventure challenges for young people in Britain today. It sets 2,400 youngsters between the ages of 14 and 19 the challenge of trekking 35, 45 or 55 miles (56, 72 or 89km) across the unforgiving terrain of Dartmoor.
The 400 teams of six had just 34 hours to complete their routes, which start and finish at Okehampton Camp.
As part of the challenge, the teams had to be entirely self-sufficient. They had to navigate across miles of open moor and camp out overnight. They also had to carry all of their food, water, tents and other essentials needed for the trek.
To mark the historic 50th anniversary milestone, The Duke of Edinburgh visited the event to congratulate the finishers and those who have volunteered to help run it over the years.
Brigadier Steve Hodder, Commander of 43 (Wessex Brigade) and Director of Ten Tors, said: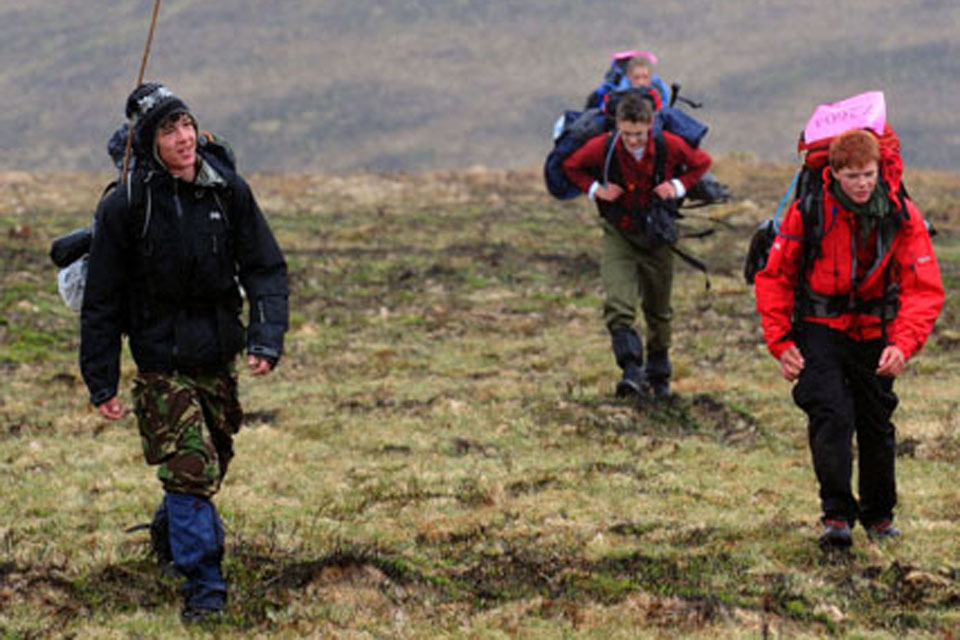 "I was delighted to welcome to Dartmoor the patron of the Ten Tors Challenge, His Royal Highness The Duke of Edinburgh.
Over the past fifty years, tens of thousands of young people from across the South West and beyond have taken part in Ten Tors, leaving lasting memories and an appreciation of the beauty of Dartmoor which is never forgotten.
I took part in Ten Tors as a Combined Cadet Force cadet from Exeter School, completing the 35-mile [56km] route twice and finishing the 45-mile [72km] route early on a Sunday morning in 1975. I learnt that with determination and thorough preparation and training, anything was possible.
The challenge started at 0700hrs on Saturday 8 May 2010 with blank rounds fired from field guns provided by Bristol-based 266 (Commando) Battery Royal Artillery (Volunteers) and a flypast by two Sea Kings from 848 Naval Air Squadron.
A great roar went up as the 397 teams who made it to the start line careered past their families and friends and off into the cloud-covered hills, despite carrying up to a third of their bodyweight on their backs.
Over the course of the weekend, 214 individuals were forced to pull out. Fortunately there were no serious injuries, but scrapes, sprains and the effects of the cold took their toll. A drop-out rate of less than 10 per cent is well within expectations for such a challenging event.
Also on Saturday, 250 less able-bodied youngsters - many in wheelchairs or on special tricycles - finished the Jubilee Challenge, having covered distances of eight to 15 miles (13 to 24km) on tracks or across the open moor.
They took part as a team or as individuals, each one accompanied by an Officer Cadet from Exeter University Officer Training Corps and some Combined Cadet Force cadets.
The youngsters from the Jubilee Challenge were presented with their medals by Brigadier Hodder on Saturday afternoon.
Later, on Saturday evening, adult volunteers whose dedicated support has helped to keep the Ten Tors Challenge alive over the years were presented with unique gold, silver and bronze Ten Tors medals to thank them for their efforts.
By early Sunday morning, several teams were close to the finish. Some had already walked more than 40 miles (64km) on Saturday, so they were only a few hours away.
The first two Ten Tors teams crossed the finish line at Okehampton Camp at 0737hrs on the Sunday morning. A steady stream of red-faced youngsters followed.
The finishing gates were then finally closed at 1700hrs with 372 teams having completed the challenge.
Published 12 May 2010