News story
£500k to help armed forces personnel access credit union services
Government to provide £500,000 to help armed forces personnel access credit union services.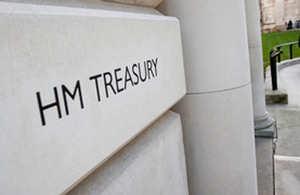 Historically some personnel have encountered difficulties in getting credit approved, due in part to moving regularly and not being able to build up a good credit rating. Some have also been targeted by payday loan companies.
The action Economic Secretary Andrea Leadsom has announced today (26 March 2015) will help to tackle these problems.
The funding, which will be provided through LIBOR fines, will be used to set up 'payroll deduction' systems which will allow current personnel, and former Service personnel in receipt of a military pension, to save with and pay off loans from a credit union directly from their salary or pension.
And the credit unions who will operate the payroll deduction systems will change their membership criteria so that more armed forces personnel can become credit union members and have access to safe affordable loans.
The MOD is in discussion with three credit unions to deliver this initiative: Plane Saver Credit Union, London Mutual Credit Union and Police Credit Union. The scheme will be available from the summer.
Andrea Leadsom, the Economic Secretary to the Treasury, said:
I am delighted to announce that plans are underway to help armed forces personnel save with credit unions directly from their salary or pension.

Military personnel have long faced difficulties accessing credit due to the mobile lifestyles required by their jobs, and it is right that fines from the small number who've demonstrated the worst of values will be used to support these military personnel who have served their country.
Anna Soubry, Minister for Defence Personnel, Welfare and Veterans, said:
It's vital that we do right by those who put their lives on the line for their country – and that is why this government enshrined the Armed Forces Covenant in law in 2011.

I'm delighted that we have put the wheels in motion to put right an issue that has caused disadvantage and disappointment to some personnel.
The Chancellor changed the rules in 2012 so all Libor fine income could be donated to military charities and other good causes. The government has since donated around £200 million to good causes, ranging from the Invictus Games to landmine charities.
A further £10 million per year has been pledged to support the Armed Forces Covenant Fund in perpetuity. And at Budget, the Chancellor announced £75 million of new donations, including £10 million to air ambulances across the UK, £25 million to create a new fund for aged veterans, and £10 million to support regiments and units which served in Afghanistan.
Providing access to credit unions complements existing financial support for the military. The MoneyForce programme, launched in March 2013, gives financial education and awareness to service personnel, combined with accessible online support for the entire Armed Forces community via MoneyForce.com.
Today's announcement builds on the work of this government under its commitment to the Armed Forces Covenant, and financial inclusion more broadly.
Credit unions are owned by their members. This means they are able to offer competitive rates of interest on savings and loan products, as there are no third-party shareholders to whom profits must be distributed. Credit unions are also able to offer safe and sustainable loans to their members, and deposits are protected by the Financial Services Compensation Scheme.
Published 26 March 2015