50 years of Commando comics celebrated at National Army Museum
For the last five decades, the storybook heroes in DC Thomson's Commando comics have been locked in mortal combat with the 'Hun' or fighting…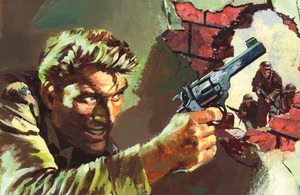 For the last five decades, the storybook heroes in DC Thomson's Commando comics have been locked in mortal combat with the 'Hun' or fighting off 'Jap' ambushes in the jungles of Second-World-War Burma. It would seem that no-one has told them that 'for you Tommy, ze vorr is over'.
Which is just fine by today's regiments of schoolboys who still swarm into newsagents to spend their pocket money on the latest action-packed edition, and run home shouting things like 'try that for size you square-headed rat' as they mow down imaginary baddies with a stick as a Sten gun.
Well OK, they probably buy it online, but it is nice to know that in a world of iPhone apps and role-based shoot 'em ups, there is still a place for plucky sergeants getting their arrogant officers out of a spot of bother and keeping the fighting spirit up with a refreshing cup of tea.
To celebrate Commando's golden anniversary, and as part of its series looking at how the British Army is depicted in popular culture, the National Army Museum has created an exhibition of some of the comic's stunning covers.
And to judge by the crowds of dads and lads, and a fair few mums and daughters, milling around the ticket desk, the exhibition has been a huge success.
So why have these comics endured? Maybe it's the simple morality behind the plotlines that has kept comic addicts coming back for more for so long.
Or maybe it's the comfort you get in knowing that, if nowhere else in life, at least here a good bloke (and occasionally the good bloke is a 'Jerry') will always triumph over a bad 'un - even if the personal cost has been high.
But for many, the comic's success relies on a lot more than this, and, if anything, their quality should attract a great deal more critical acclaim than they do. One admirer of the genre is Robert Fleming, Curator of Fine and Decorative Art at the Army museum, who put the 'Draw your weapons' exhibition together:
I was a big fan when I was 12," he said. "Like everyone else I thought the bold stylised form was really exciting. In fact I'm sure that reading these comics is where I got my interest in military history from and started me on my career.
Robert also says that he has been told by quite a few blokes visiting the exhibition that the comics had a part to play in them joining up for a career in the Services.
According to Robert, the black and white artwork gives the pocket-sized comics a gritty realism and portrays the intense action of combat as well as the surge of emotions that are associated with conflict. The writers pride themselves on the quality of the research that goes into each edition, getting details of uniform and equipment exactly right.
The stories themselves may be fictional but they are all set against an authentic background based in solid fact, even down to the language used in the speech bubbles:
I've put up an information panel about that," explains Robert. "Some of it may seem politically incorrect, but that is how soldiers talked to each other, and it would be wrong to shy away from that.
OK, the themes may be simple, but they do present you with the tough questions of morality and the hard choices troops have to make in times of conflict.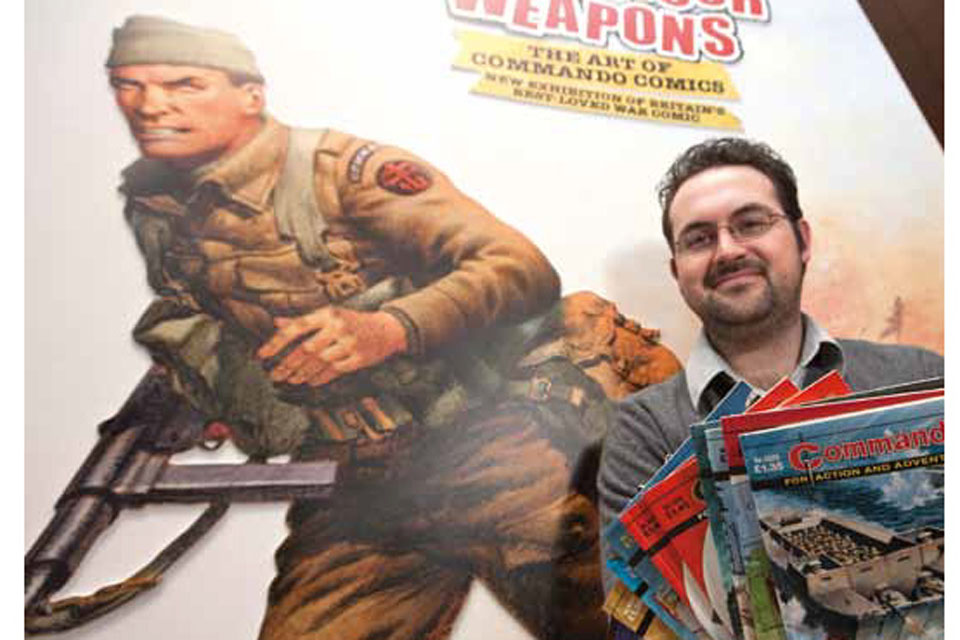 As you turn the pages you ask yourself if you would discover the strength of character to do the right thing and help get your mates through it all, like the everyman heroes in the stories - just as many of us wonder if we would be able to crack on like our troops who are on operations when the going gets tough.
War is not glorified, nor is it trivialised. What is celebrated is that, in the face of adversity, given the right circumstances, normal human beings can be heroic. As Commando's editor Calum Laird says:
It's about the ordinary bloke in extraordinary circumstances.
And what's wrong with that? With British forces routinely making sacrifices in Afghanistan, life, you could say, is very much imitating art, and perhaps that's the real reason the comic has endured - qualities like courage, endurance and determination are as valid today as they ever have been.
The exhibition, which is open till the end of April, not only uncovers some of the real life stories behind the artwork, but also links the themes to the extraordinary experiences of the real life British Commandos, and explains why the fighting elite were created.
So why not go along? Who knows, you may come out shouting 'Good grief! Take a look at that Jerry, Sir - he's got the nerve of the devil!'
This article is taken from the April 2012 edition of Defence Focus - the magazine for everyone in Defence.
Published 20 April 2012