Press release
£50 million more immediate support for homes and business affected by floods
Communities Secretary announces extra funding to local authorities to help support households and businesses affected by floods.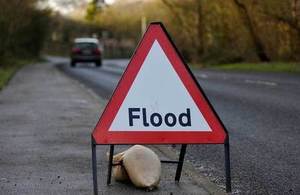 Communities Secretary Greg Clark today (29 December 2015) announced £50 million extra funding that will be available immediately to local authorities to help them support households and businesses affected by the weekend's devastating floods in Northern England.
This extends the total level of support now pledged by the government for the winter floods to over £100 million, as part of a streamlined approach to ensure households and businesses can get the support they need as quickly as possible.
As councils start their clean-up operation Mr Clark also confirmed that the Bellwin scheme, already activated following storm Desmond, would be extended to those councils impacted by storm Eva over Christmas. It means councils will be able to apply to have 100% of their costs above threshold reimbursed through the scheme.
Communities Secretary Greg Clark said:
No-one could fail to be moved by the scenes of devastation left in the wake of storm Eva – we're determined to ensure all those affected get the support they need quickly.

That's why today we're extending government support to those communities by £50 million, matching the funding already announced for areas affected by storm Desmond.

As part of this, councils facing clean-up costs can be confident they will get the support they need through the extension of the Bellwin Scheme.
The money announced today will:
help the people directly affected by the floods; providing local authorities with funding to spend on local recovery needs: for example, to help with temporary accommodation costs whilst they work to get people back into their homes

support people as they protect their homes against future floods by providing grants of up to £5000, so they can install new flood barriers, replace doors and windows with water resistant alternatives, or move electricity sockets up to a safer level

ensure flood affected businesses that have had their trading disrupted can get back on their feet, with funding provided to local authorities to help business affected alongside funding specifically provided for farmers to help restore their land
The Community Recovery Scheme was launched in the wake of storm Desmond, and is run by local authorities to ensure funding is delivered quickly and efficiently to provide targeted support. The first payments were made in a matter of days to councils in the affected areas.
Further information
Read further details of the funding announced following storm Desmond.
The Bellwin scheme compensates authorities for the exceptional costs incurred in incidents such as flooding. Authorities are eligible for costs under Bellwin when they have spent more than 0.2% of their calculated annual revenue budgets on works.
Eligible authorities include:
councils
police authorities
fire and rescue authorities
National Park authorities
The government will apply the Barnett formula to the funding announced so that devolved administrations will receive £7.5 million. It is up to them how this money is spent.
Office address and general enquiries
2 Marsham Street
London
SW1P 4DF
Contact form http://forms.communiti...
General enquiries: please use this number if you are a member of the public 030 3444 0000
Published 29 December 2015