News story
50 Days to NATO Summit Wales
Foreign Office Minister David Lidington and UK members of the NATO Parliamentary Assembly discuss how NATO can help build stability in an unpredictable world.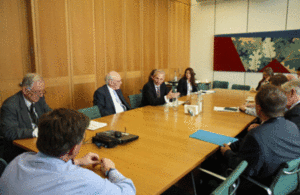 Yesterday marked 50 Days to go to the NATO Summit in Wales. Foreign and Commonwealth Office Minister David Lidington took the opportunity to update colleagues from the UK Delegation to the NATO Parliamentary Assembly on preparations for the Summit.
This will be the first NATO Summit the UK has hosted since the 1990 London Summit. It will be one of the biggest political events the UK has ever hosted. We will look after and protect around 185 VIP visitors, 4000 delegates and 1500 journalists.
We have 3 priorities for the Summit:
mark the International Security Assistance Force (ISAF) contribution in Afghanistan and consider how the Alliance can continue to support the Afghan Government as that mission comes to an end. The Summit should also recognise the sacrifices made by the Alliance's armed forces, and commit to safeguarding the welfare of veterans and their families
agree on the long-term implications of the Russia-Ukraine crisis and how the Alliance will continue to provide for the collective security of all Allies
agree how NATO will adapt itself to address the new risks and challenges from an unstable world of failed states, regional conflicts, terrorism and cyber-attacks.
Further information
News about the Summit can be found on NATO Summit Wales 2014
Further information can also be found on NATO Parliamentary Assembly
Follow Foreign Office Minister David Lidington on twitter @DLidington
Follow the Foreign Office on twitter @foreignoffice
Follow the Foreign Office on facebook and Google+
Published 18 July 2014